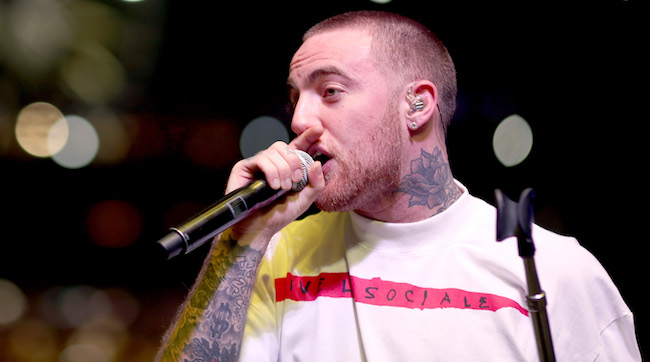 Mac Miller tributes continue to pop up all over social media, but perhaps the saddest one so far is the one posted by his own mom. Karen Myers has outlived her son, who died at the age of 26. There's almost nothing in the world sadder than that. Like Ariana Grande, Mac's mom was unable to muster words to describe her loss, settling for a broken heart emoji that somehow both suffices and doesn't at the same time.
Mac had just released his fifth studio album under Warner Bros. Records and his own REMember Music imprint. However, police were called to the rapper's home Friday and he never got to enjoy the fruits of his creative labor after he died of a suspected drug overdose.
In the wake of his passing, his extended musical family and close friends in the industry have all honored him with posts, as well as fans and mutual admirers whose work Mac inspired and was inspired by. Childish Gambino dedicated a performance of "Riot" to Mac, while J. Cole paid his respects with a short speech and tearful rendition of "Love Yourz" at his recent Las Vegas tour stop. Meanwhile, Mac's hometown of Pittsburgh, Pennsylvania is planning a vigil at Frick Park at 7 PM today. Frick Park is, of course, the location of the Blue Slide Park from which he borrowed the title of his debut album.