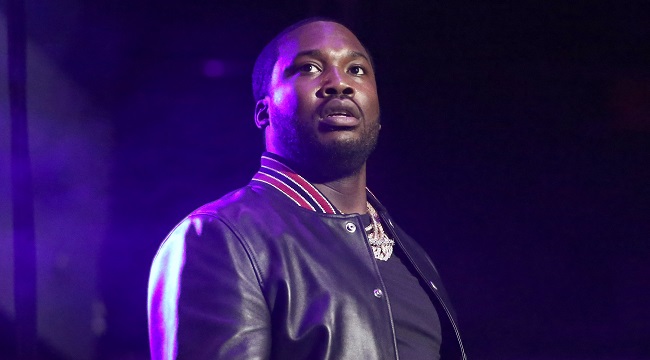 Just a week after an uneventful PCRA hearing, Judge Genece Brinkley has reportedly denied Meek Mill a new trial in his 2008 gun and drug case, which may result in the rapper returning to prison to continue his 2-to-4 year probation violation sentence. TMZ reports that Brinkley denied Meek Mill's Post Conviction Relief Act (PCRA) petition, despite the belief by Philadelphia prosecutors – and city DA Larry Krasner – that the rapper deserves a new trial in a controversial case involving a corrupt cop. Brinkley, who's being investigated by the FBI for her conduct while presiding over this case, reportedly denied the PCRA — an exceedingly rare occurrence — because the cop that wrote an affidavit swearing that Reginald Graham was a corrupt cop lacked credibility due to their own conduct. Basically, Brinkley's logic is that one corrupt cop can't finger another. TMZ reports that she said the following:
After an in-depth review of the record, court history, notes of testimony, and evidence submitted at the evidentiary hearing, this court hereby denies defendant's petition for PCRA relief as defendant failed to meet his burden of proof.
Brinkley apparently overlooked the affidavit despite the fact that Graham is no longer a cop and was placed on a citywide Do Not Testify list because he's deemed noncredible. TMZ also noted that she implied "even IF you believe Graham was a dirty cop, she believes it would not have changed the jury's guilty verdict" in the controversial case that hinges upon Graham's testimony that Meek pointed a gun at him and other offices.
Meek Mill's lawyer Joe Tacopina called the decision a "miscarriage of justice" that they hope "will be corrected upon further review." Tacopina added that he figured Brinkley had already made her decision during the PCRA hearing on June 18th. On the day of that hearing, Philly citizens held a rally for Meek Mill, who stated to his supporters that he "came into the [hearing] not thinking anything good was gonna happen" and "it was what I thought it was," possibly bracing for this eventual denial.
There's no word on the next steps for Meek and his lawyers, though an appeal is likely. They had previously filed to have Brinkley removed from the case, but the Pennsylvania Supreme Court recently denied the motion. Meek has been out on bail while awaiting a decision on a new trial and recently debuted his "Stay Woke" single featuring Miguel with a rousing performance at the BET Awards.