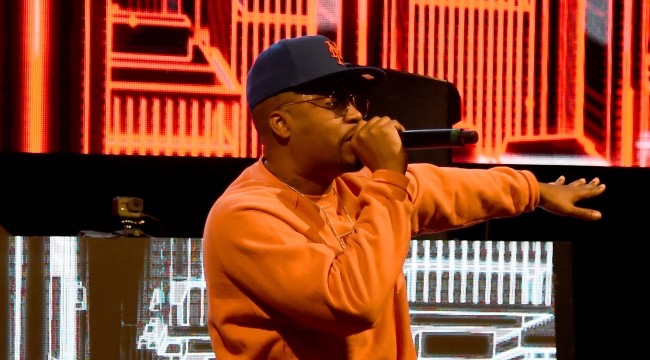 For eager fans who were put off by Kanye West and crew's listening party-streaming shenanigans for the past few weeks — listeners had to download the WAV app, which crashed during the listening party for Kanye and Kid Cudi's Kids See Ghosts — will be elated to learn that the listening party debut for Nas' Kanye-produced album, now titled Nasir, will have a much more streamlined debut.
According to a press release from Universal, Def Jam Recordings' distributor and the new distribution home of Nas' own Mass Appeal Records, the listening party will stream at midnight tonight/tomorrow via Mass Appeal's Youtube page, rather than WAV. Nasir takes its title from Nas' full first name, is his 11th solo album of a storied, 24-year career, and is his first since 2012's Life Is Good. Kanye previewed the tracklist yesterday on Twitter, but given his newfound propensity to rework albums until their release deadlines, those titles could change before Nasir hits streaming services.
All of the album's seven tracks will be produced exclusively by Kanye West — the fourth of five such efforts from the GOOD Music founder — who also creatively directed an exclusive Cali Thornhill Dewitt-designed merchandise collaboration, which will be available at shop.nasirjones.com. Nasir constitutes the first release of Mass Appeal's partnership with Universal Music Group in conjunction with Def Jam.