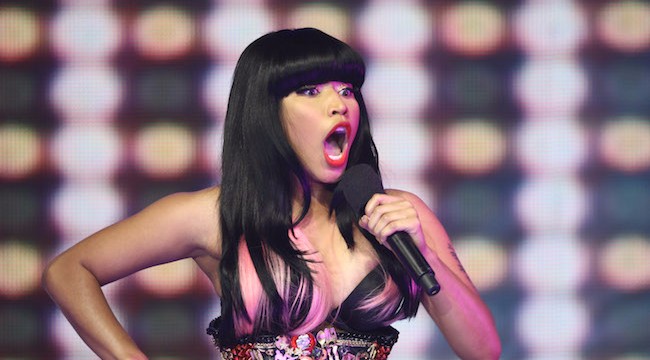 So, that Nicki Minaj Paper magazine cover is a definite head-turner. For the first time, Onika Maraj has truly lived up to her stage name, and predictably, the internet is going bananas with reactions. The thirst is very strong with this one, but given Minaj fans run the gamut of American society, there's also wig-snatching, life-getting, and emoji eye tossing going on as well. We covered a few last night when the cover hit the 'net, but this sort of thing is just too good to stop there.
In recent years, it appears Minaj has become a model of a new wave of feminism that allows her to call out the inherent sexism of the music industry while at the same time embracing her sex appeal in pictorials such as Paper's "Break The Internet" issue. She has smashed the idea that there can only be one dominant female rapper on the charts at any one time by embracing would-be rival Cardi B as well, defending the neophyte from nasty rumors that she'd been snuck onto their recent Migos collaboration without Nicki's knowledge or consent.
She may not be the role model that many hip-hop pioneers envisioned at the genre's inception, but she is certainly the right one for the modern era. She holds down women in business, she supports other women artistically, and most importantly, she gives us plenty of opportunities to get those .gifs off. See more reactions to her Paper magazine cover below. The NSFW-ish cover is included, so consider yourself warned.