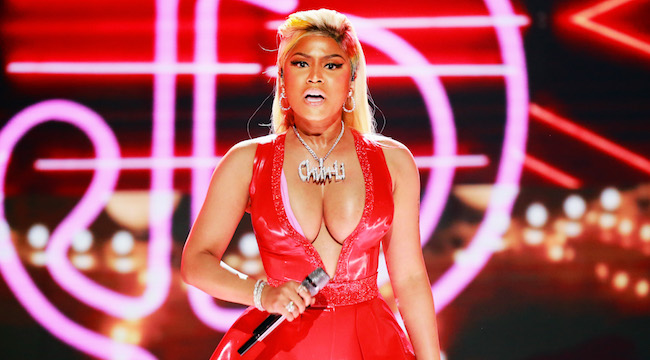 After a long build-up involving quasi-beef, numerous test singles, and plenty of Barb baiting, Queen has arrived — a week early, no less. After Nicki Minaj claimed that her long-awaited comeback album — one of many comebacks from rap's upper echelon to release in 2018, including Kanye West, Drake, and Travis Scott — had been pushed back to allow for sample clearances, she announced on the debut episode of Queen Radio on Apple Music that the album would arrive right on time for its original release date of August 10.
Of course, it missed the customary midnight release that has become a favorite of rap's biggest artists, so the album was scheduled to go live at 9 AM PST / 12 PM EST. The album was originally set to include singles "Bed" featuring Ariana Grande, "Rich Sex" featuring Lil Wayne, and the indomitable "Chun-Li," which is still going strong on streaming charts as Nicki's effervescent fan base eagerly clamored for the promised release of Queen. According to the tracklist Nicki posted to her Instagram, the album also features appearances from Swae Lee, The Weeknd, Future, Eminem, and Nicki's number one inspiration, Foxy Brown, whom Nicki once called her "only competition."
Unfortunately for those fans, they missed out on the opportunity to catch the album in full via Beats 1 Radio, as Nicki lamented that "a lot of corporate drama" had delayed her from playing the just-finished album on air. Nicki revealed that the project had been completed just three hours before the broadcast — just in time to meet the promised release date. Check it out here.