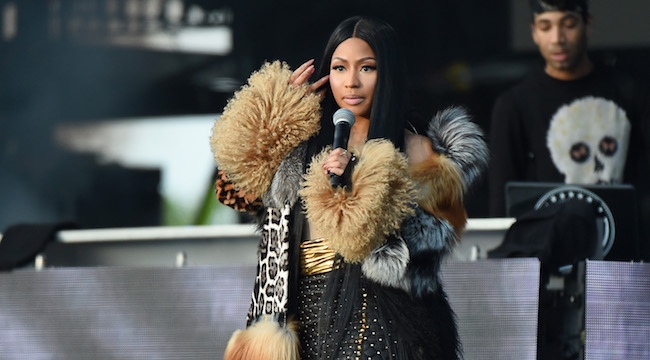 James Brown used to sing about how it's a man's world — but it wouldn't be nothing without a woman or a girl. The same holds true of hip-hop; many of the behind-the-scenes movers and shakers, photographers, editors, A&Rs, radio personalities and programmers, and PR connections that make the rap world go 'round are women, or got their jobs from women, or are supported by women. However, when it comes to the front-facing aspects of the culture, it seems hip-hop is still reticent to allow a woman the same level of support as men. Just ask Nicki Minaj, who took hip-hop's sexism to task in a series of heated tweets early this evening, calling out the double standards that often leave many women out of the conversation.
Quoting an old Kendrick Lamar tweet from 2010 that read, "Just realized. Moe[sic] n—-z hate Nicki Minaj than women do," Nicki added a comment that said, "Kendrick's tweet from 7 years ago. This is so telling. And scary. I'd have to wear some baggy pants n Timbs for men to openly give props," possibly a reference to earlier female rappers like MC Lyte and Da Brat. She followed up with a short tweet storm that expanded on her view that she doesn't get as much love as men who rap.
"Putting ppl in the same sentence as me after my 10 years of consistent winning. What are you teaching THEM? They'd never do this to a man. The greats collaborated w/Drake, Kendrick & Jcole b/c they're dope MC's. They collab'd w/Nicki cuz someone pulled a gun to their heads… In any field, women must work TWICE as hard to even get HALF the respect her male counterparts get. When does this stop?" she wrote, concluding with a clipped, "Thank you."
She just might have a point. Until Cardi B smashed the glass ceiling on women in rap with "Bodak Yellow"'s historic No. 1, no other solo female rapper had achieved that height since Lauryn Hill in 1998. And that's still overlooking gross comments made by Rick Ross and others that may make many female rappers feel that their place in the game is nowhere near as secure as their male counterparts'. Fortunately, thanks to the efforts of Cardi, Dej Loaf, Dreezy, and a host of other up-and-coming women, the future is looking much more bright.