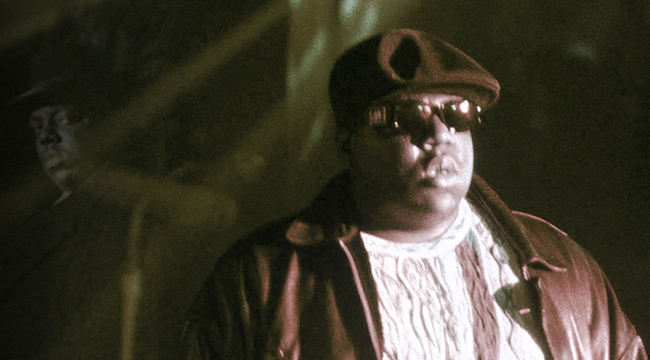 Life After Death, the Notorious B.I.G.'s super-sized, sophomore album dropped 20 years ago on March 25, 1997. In the weeks and months leading up to that date, the buzz for the record took on a life of its own. It quickly became one of the most hotly anticipated releases that year and one of the most buzzed-about records in the history of rap. Sadly, the man behind the mic wasn't around to celebrate when it finally arrived in stores. Sixteen days earlier, on March 9th, Christopher Wallace was gunned down while sitting at a stoplight in an SUV at the corner of Wilshire Blvd. and Halifax Avenue in Los Angeles. He was rushed to Cedars-Sinai Medical Center, but there was nothing the doctors could do. Biggie was gone.
Because of the incredible circumstances surrounding Life After Death at the time it dropped, not to mention it's prophetic title and somber cover image, there's a sense of grim finality that has engulfed the project in the minds of fans and casual observers alike. Make no mistake though, Life After Death was never intended to be a farewell or a final statement. Instead, it was meant to mark the next chapter in the life and career of "The King of New York."
"I call the album Life After Death because when I was writing stuff like '[expletive] the world, [expletive] my Mom and my girl' on Ready To Die, I was dead, yo," Biggie explained to the Los Angeles Times in 1997. "There was nothing but anger coming out." Everything had flipped since then. A future that once seemed so bleak, now had vibrancy. "I wanna see my kids graduate," he told the paper. "I want to go to my daughter's wedding and my son's wedding, and I want to watch them get old. You're not going to get to see that if you're out there wilding."

Biggie's first album Ready To Die was a hard-hitting, live report from the gritty streets of Brooklyn, as seen through the eyes of a mid-tier drug dealer, slinging, shooting and f*cking his way through life, knowing it can all end at any minute. It was violent. It was raunchy. It was also very funny. At the center of it all stood the Notorious B.I.G., a local kingpin, a willing lover, and a terrifying enemy if you crossed him. He was a lyrical virtuoso and a storyteller without peer. Audiences bought in completely and the album remains one of the most celebrated debut releases ever issued by an MC.
In the eighteen months it took for him to put together his second record, Biggie's world was changing dramatically. He had grown affluent while also becoming incredibly famous. His life was filled with different desires and different problems. He knew he couldn't recreate Ready To Die, because the person you hear on "Gimme The Loot" and "Everyday Struggle" no longer existed. "I'm not on the streets anymore," he told Spin magazine in 1997. "It would look stupid. I'm a different person, I'm grown up. This record is about me and my position."
His position was the undisputed King of New York rap. But heavy is the head that wears the crown. Problems innumerable crept in and complicated Biggie's life. There were the normal demands of becoming a father and husband following his marriage to Faith Evans in 1994, but there were thornier issues as well. In March of 1996 he was arrested for assault after taking a bat to a taxi cab window following a run-in with some autograph seekers. In July he was arrested again for marijuana and gun possession. Then he was involved in a major car accident that shattered his leg in three different places, leaving him confined to a wheelchair for months on end. That's not to mention all the other talent around the City vying for his throne, artists like Nas, Raekwon and Ghostface Killah. And then there was Tupac.

The Los Angeles MC kicked off what became the greatest feud in rap history in 1995 when he accused Biggie and his producer and business partner Sean "Puffy" Combs of being somehow involved in his shooting in the lobby of Quad Recording Studios in New York on November 30, 1994. Even though Biggie and Puff denied the allegations, Tupac later took the former's song "Who Shot Ya?" as a diss at him and began antagonizing both men in the press. He eventually unleashed the track "Hit 'Em Up" where he claimed to have had sex with Biggie's wife. The feud was still simmering when Pac was killed in a hail of gunfire on September 7, 1996. Biggie was reportedly in the studio recording track seven, off Life After Death's second disc, a song called "Nasty Boy" at the time.
All that pain, turmoil and yes, optimism, made it into the grooves of Life After Death. The record truly reflected the state of Biggie's life at the time he was putting it all together. It was messy. It was larger-than-life. It was filled with tender emotion, while also brimming with fury, and a braggadocios swagger. It also charted the course for the sound and aesthetic for many of the most commercially successful major rap releases to follow in its wake over the next several years; especially the ones affixed with a Bad Boy label.
Life After Death opens with the same self-inflicted gunshot delivered in the final track from Biggie's last record Ready To Die, "Suicidal Thoughts." The air swells with minor-key pianos, guitars and ambulance sirens then collapses again with a single, dread-filled note of a life support machine. It's a hell of a way to set the table, and as a listener you really don't know if the next 100-plus minutes are visions of someone with a new lease on life, or of the afterworld itself.
Three songs in and we arrive to the first No. 1 hit of Biggie's career "Hypnotize." The song depicts the rapper as a smooth Lothario-type; the same slick-talking ladies' man you hear on his other big singles "Big Poppa" and "One More Chance." He's got girls in every city — "I put hoes in NY onto DKNY / Miami, D.C. prefer Versace" –- and more money than he knows what to do with: "I can fill you wit real millionaire sh*t / Escargot, my car go, one sixty, swiftly / Wreck it, buy a new one." The bouncing beat, fueled by the bassline from Herb Alpert's song "Rise," instantly grabs your attention and refuses to let go.
Biggie's second No. 1 hit comes seven songs later. "Mo Money Mo Problems" kicks off with a slowed-down sample of the Diana Ross hit "I'm Coming Out" followed by a verse from Mase that nearly steals the show. Puffy gets his moment next and then Biggie comes in and bodies the track, rapping about the Feds tapping his phones, stealing lame dudes' girls, and the blows he's taken from beefing too hard over the past 18 months: "Bruise too much, I lose too much." In an ironic twist, "Mo Money Mo Problems" replaced Puffy and Faith Evans' tribute to Biggie "I'll Be Missing You" at the top of the charts on August 30, 1997.
You can feel his weariness with the world on songs like "Last Day," "Long Kiss Goodnight," and "What's Beef," but that doesn't mean he's ready to throw in the towel. He's still got scores left to settle like on "Kick In The Door," where Biggie goes after Raekwon threatening to "throw bleach in your eye," in reference to the latter's Only Built 4 Cuban Linx track "Ice Water." Then he supposedly takes on Nas who rapped that "there can only be one king," on his It Was Written cut "The Message." To him Biggie declares, "Ain't no other kings in this rap thing / They siblings, nothing but my chil'ren / One shot, they disappearin.'"
You can also hear Tupac all over the album, but only when if you really want to. He definitely seems to be in "Going Back To Cali," where Biggie raps, "Thinkin' I'm gon' stop, givin' LA props / All I got is beef with those that violate me / I shall annihilate thee / Case closed." Tupac also pops up in "Notorious Thugs," where he calls back to a "so-called beef with you know who." Then there's the final two verses of "Long Kiss Goodnight," which many have interpreted to be about Pac, but the timing about when he laid them down remains somewhat murky.
Listening back to Life After Death 20 years later, you get a sense of a person coming to terms with their dominance, trying to make sense of it all, while steeling themselves for what's to come. It's a flashy, vibrant record. Violent maybe, but not grim. That realization enhances the pain of his loss that much more. While there's been no lack of new Notorious B.I.G. material to hit the market in the decades since his passing, the mind races wondering at all the possibilities and collaborations that never came to fruition because of his untimely demise.
On the final track of the album, a song titled "You're Nobody (Til Somebody Kills You)," Biggie raps, "You can be the sh*t, flash the fattest five / Have the biggest d**k, but when your shell get hit / You ain't worth spit, just a memory." He wasn't talking about himself though. He was referring to a dude named Jermaine who got shot while messing around sexually with a crackhead. The point he was making was that everything about Jermaine's life, the fact that he liked to wear suede in the rain and that he drove a champagne Range Rover was erased and forgotten the second a bullet went through his skull. Jermaine's entire story became his demise. Biggie didn't necessarily want that for himself, but he also recognized that that's how it goes. Life After Death keeps him from that fate, even if it couldn' keep him with us.