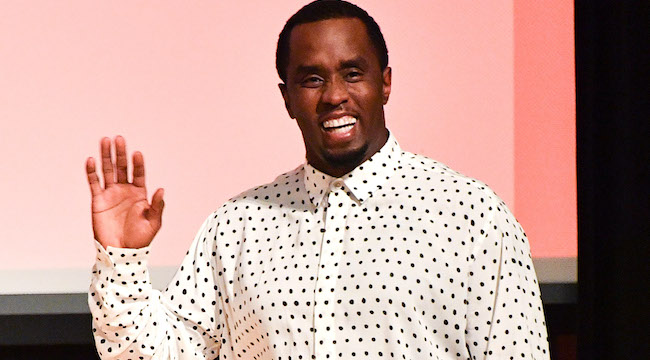 According to Forbes' latest edition to their annual Hip-Hop Cash Kings list, Sean "P. Diddy" Combs is currently the biggest earner in hip-hop, with a $40 million lead on the next richest, Drake. Both of them lead third place Jay-Z by at least $50 million, with Dr. Dre and Chance The Rapper(!) rounding out the top five.
The rapper-producer-all-in-the-videos-dancer formerly known as Puff Daddy earned his huge lead in large part due to his Bad Boy Family Reunion Tour. He also has a quite lucrative partnership with Ciroc Vodka, which anyone who's been in a nightclub VIP section — or a Met Gala — in the last four years can tell you was probably a great investment. Last year Diddy also sold off one-third of his Sean John clothing line for an estimated $70 million. He's got plenty of reason to celebrate — and apparently more than enough cash to put his office back together after he does. All in all, Puff's investments and partnerships put him at about $130 million earned in 2017.
I guess Virginia Black whiskey has a ways to go to catch up with Ciroc, as Drake came in second place with $94 million. Jay-Z's $42 million is nothing to sneeze at, but coming in third behind a new jack like Drake may put a damper on all his investment advice for the foreseeable future. Drake can money phone Jay all he wants now.
Dr. Dre is estimated to have earned $34.5 million, while Chance The Rapper comes in at fifth with $32 million, which isn't half-bad for an "industry plant." To save you a click, the rest of the list is reprinted below.
1. Diddy ($130m)
2. Drake ($94m)
3. Jay-Z ($42m)
4. Dr. Dre ($34.5m)
5. Chance the Rapper ($32m)
6. Kendrick Lamar ($30 million)
7. Wiz Khalifa ($28 million)
8. Pitbull ($27 million)
9. DJ Khaled ($24 million)
10. Future ($23 million)
11. Kanye West ($22 million)
12. Birdman ($20 million)
13. Swizz Beatz ($17 million)
14. Snoop Dogg ($16.5 million)
15. Nicki Minaj ($16 million)
16. Lil Wayne ($15.5 million)
17. J. Cole ($14 million)
18. Macklemore & Ryan Lewis ($11.5 million, tie)
18. Rick Ross ($11.5 million, tie)
20. Lil Yachty ($11 million)