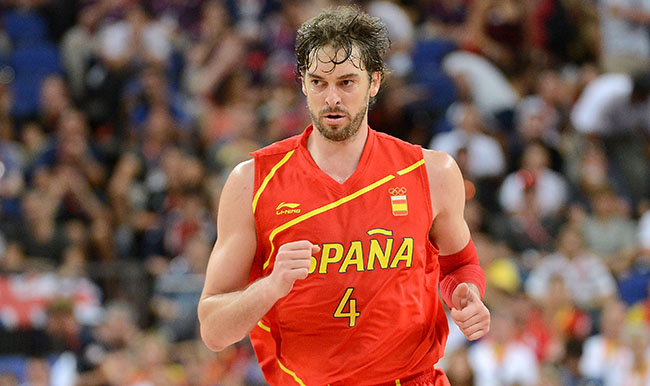 As the Summer Olympics in Rio de Janeiro draw closer, concerns are growing among athletes about the Zika virus and the safety of the games. Maybe the most high-profile athlete to express these concerns publicly is Pau Gasol, who is slated to play for the Spanish men's basketball team in Rio. He told reporters that he's still deciding whether to participate.
Via the Associated Press:
"I'm thinking about (whether or not to go)," he said. "Just like every athlete, or any other person considering going to Rio, should be thinking about it."

Without giving names, Gasol said he talked to other athletes who told him they may not participate in the Games.

"Some of these athletes are planning to have children in the near future and this could affect them, it could affect the health of their kids and their wives," he said at an event for one of his sponsors in Madrid. "Their health should come first."

Brazil has been badly hit by Zika, the mosquito-borne virus linked to severe birth defects and possible neurological problems in adults.

Gasol said officials involved in the games must come forward with "more clear information" about the risks athletes could face if they decide to compete in Rio.

"I hope the national Olympic committees and the health organizations can be as clear as possible about the risks in Brazil so athletes can decide whether or not to take risks," he said. "I don't think we've been told enough about it."
Gasol in particular is exactly who you'd expect to be concerned and informed about this sort of thing. His interest in medicine is well-documented; he dropped out of medical school to pursue an NBA career, but has stayed up to date on these things, regularly visiting children in the hospital and surprising doctors with his medical knowledge.
It would be a major loss for Spain to be without Gasol, particularly because his brother, Marc, is recovering from foot surgery and also unlikely to play the Rio Olympics.
For the 35-year-old Gasol, another factor into his decision is his impending free agency. He's widely expected to opt out of the final year of his contract with the Bulls, looking to score one last big contract before the end of his career. Any team that signs him will probably feel a lot better about giving him upwards of $10 million a year if he wasn't at risk of contracting Zika.
With just over two months to go until the start of the Rio Olympics, expect more athletes to express Gasol's concerns.