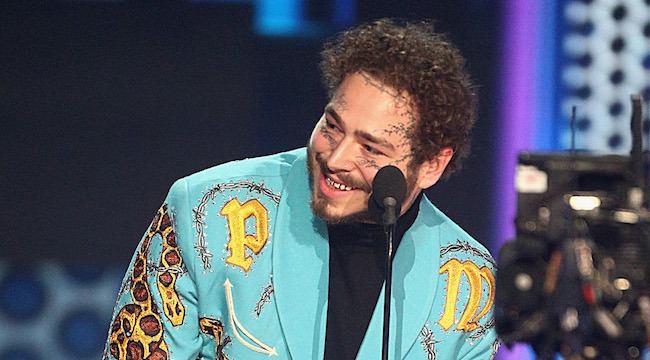 Rappers jumping from the recording booth to the screen is nothing new; one of the pioneers of transitioning careers was Mark Wahlberg, aka Marky Mark, who was at one point nominated for a rap Grammy, believe it or not. Now, Wahlberg is helping another fellow — if reluctant — student of hip-hop make the leap: Dallas rapper Post Malone, who has been cast in Wahlberg's forthcoming Netflix debut, Wonderland. At least now we may have somewhat of an explanation for that new haircut.
According to Variety, the cast will also include Alan Arkin, James DuMont, Iliza Shlesinger, Hope Wilson, Bookem Woodbine, and star Black Panther breakout Winston Duke. Duke played the imposing M'Baku in Marvel's runaway hit earlier this year.
Wonderland is an adaptation of a series of detective novels written by Ace Atkins following a detective named Spenser as he investigates a sensational murder and the conspiracy responsible. The character has starred in 48 books, all of which have been bestsellers. There's no word as yet when the movie will debut on the platform, but the turnaround time for Netflix movies is usually pretty quick, considering the streamlined logistics involved.
The news of the casting comes as a change of luck for Post Malone, who has had a bumpy summer after incidents involving a private jet and a traffic collision. His year did start off with a bang, though; Beerbongs & Bentleys, his second studio album, debuted at No. 1 and has hovered near the top of the charts ever since.