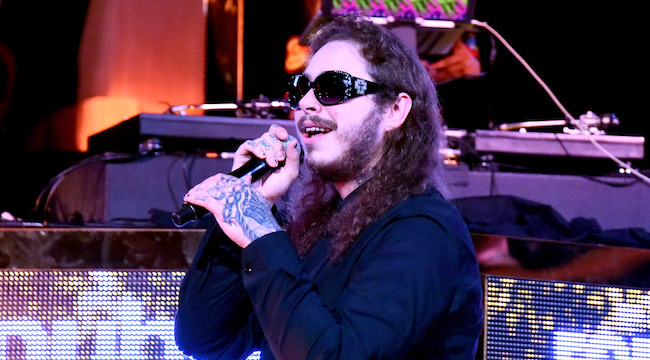 Well, Post Malone didn't spoil Cardi B's Billboard No. 1 coming out party, but he sure wasn't content to simply hang out at No. 2.
"Rockstar," his driving ode to the life of excess and access afforded to the rich, famous, and musically-inclined, is officially the No. 1 song in the country — a first for both him and guest 21 Savage. It would appear that "congratulations" are in order for the 22-year-old rising star and his lanky compatriot.
The chart-topping "Rockstar" appearance makes five rap songs in 2017 that have reached No. 1 on Billboard's Hot 100 — the first time it's happened in a calendar year since 2006. Post's first single from his upcoming sophomore album, Beerbongs And Bentleys, serves as a promising glimpse at what the Dallas native has in store as he has revamped his look and sound to take listeners expecting more "White Iverson" by total surprise.
He's fully embraced the "Rockstar" moniker as well, covering Nirvana standards and stage-diving with wild abandon, which have made him a favorite at live performances. His gift for melodies, catchy lyrics, and picking hard-pounding beats has made "Rockstar" a self-fulfilling prophecy. Nobody expected this level of success from Post Malone, but maybe we should have — he's been telling us all along.