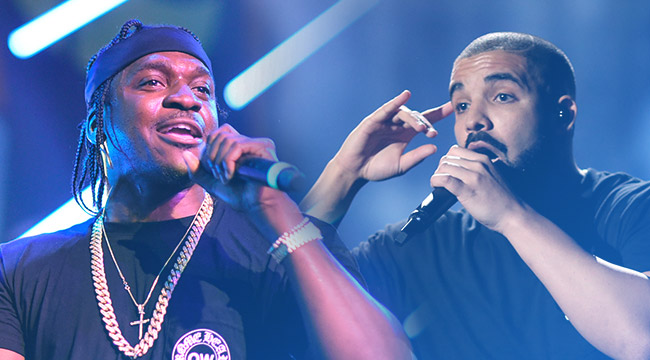 For months, Pusha T has been focused on the presidential election and politics in general while the rap world continued spinning and trying desperately to drag him back into it. Drake seemingly took some very direct shots at Push on "Two Birds, One Stone" back in October and fans waited with bated breath as the feud was looked like it was finally going to come into full fruition. Pusha had dissed Drake several times over in the past few years, and now, the 6 God was a willing and aggressive participant. Surely the G.O.O.D. Music president would have a rebuttal ready to lock and load and fire right back at his longtime foe.
Except he never did.
Now, Pusha talked to Complex for a lengthy cover story for their Dec/Jan issue on his foray into politics and his fight against mass incarceration. For the piece, Push even interviewed Ava DuVernay, director of 13th, the lauded Netflix documentary on mass incarceration. It's an obviously worthy cause, but even so, the elephant in the room was Drake and with some prying, Pusha did finally speak on the track.
"I heard something," he says, simultaneously playful and dismissive, when I ask him again about "Two Birds, One Stone" and the Internet chatter that Drake's lines were directed at Pusha, questioning the street bona fides of his past. "I would never, ever attribute that [song] to myself. My past is cemented. My past happened. Like slavery happened. The Holocaust happened. You can't ever question anything that has actually happened."
Eventually, Push says "I'm not speaking to him at all. I'm telling you, the real of it is: It ain't real if it's about me" and that's that. Not quite as fiery a response as some may have been expecting, but a response nonetheless. Maybe it's part of his plan, to write it all off now but respond later on wax. Or maybe Push truly doesn't agree with the entire Internet in thinking those bars about fake drug dealers were about him. Whatever the case, it appears this is all we're getting from Push for now.