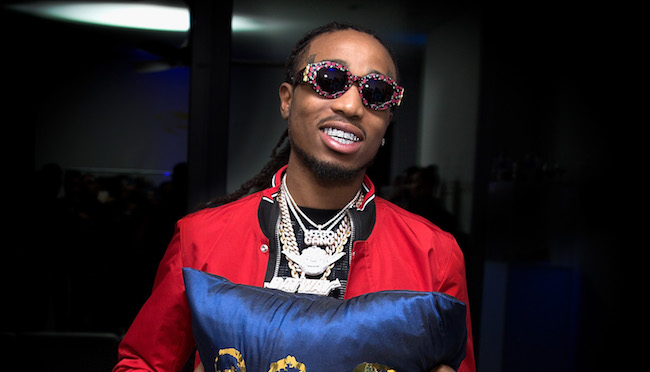 By all accounts, Quavo is a very busy man. Whether he's hooping it up with Shaq's son, killing new tracks with Nicki Minaj, cheering on his beloved Georgia Bulldogs or giving his old high school basketball team free shoes it seems the Migos spitter is always up to something. Now, apparently, we can add engineering to that endless list of activities because according to the man himself he's busy manning the boards for Migos forthcoming album Culture 2.
The followup to their No. 1 LP has long been rumored and teased, with the trio even releasing a single in "Stir Fry." At one point, it was revealed that the hard drive storing the new album was lost, but it appears that everything is back on track as Quavo took to Twitter to note that he "can't sleep," as he's rooting on his Georgia Bulldogs in the NCAA National Championship football game against Alabama tonight and "Mixing Culture II."
Surely, the Georgia game is working Quavo's nerves, but putting together a much-anticipated album has to be a little nerve-racking as well. As he notes in the jumbled tweet, the anniversary of the original Culture is coming up soon, and with the sequel already in the mixing process, you'd have to imagine the group intends to release the album much sooner than later.