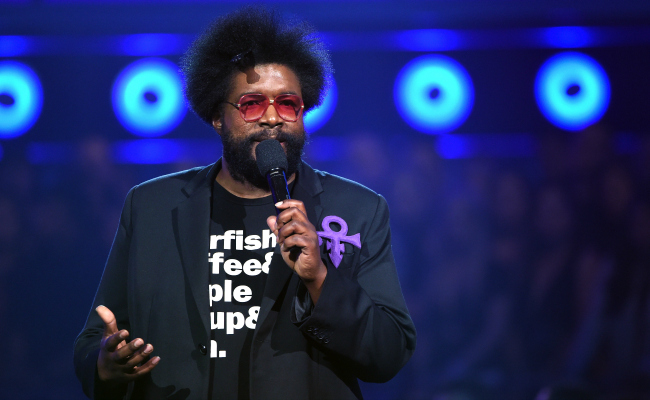 Americans woke up this morning to the fresh news of the nominees for the 59th Grammy Awards. The list featured some obvious selections (Beyoncé, Adele), but also some surprises (Sturgill Simpson, Blink-182), leaving some fans thrilled and others not so much. The Roots' Questlove falls into the "not so much" category, noting that he thinks a lot of his fellow Academy members failed to cast their ballot for the nominees:
Perhaps Questlove was too fascinated with Childish Gambino's Awaken, My Love! to even consider casting his vote, having woken up D'Angelo at 4 in the morning after hearing the album — which he calls a "sucker punch in black music" — for the first time. Check out Quest's description of the album, which he posted to Instagram last Friday, below
Dude I'm so f*cked up right now. I can't even form the proper hyperbolic sentence to explain to D'angleo why I woke him up at 4am to listen to this. I'm like—when is the last time someone sucker punched me on this level…..I mean I knew #AroundTheWorldInADay was coming & it was a left turn—I'm about to blow the wigs off music historians… but I thought I was getting some fresh millennial 2016 hip hop shit and I got sucker punched. The last sucker punch in black music I remember in which NO ONE had a clue what was coming was Sly's #TheresARiotGoinOn—read my IG about it (the flag)—I'm writing in real time cause —Jesus Christ the co-author of #WearwolfBarmitzvah just SONNED the shit outta me. In the best way possible. I was NOT expecting a trip to Detroit circa 1972 at United Sound Studios. I haven't written or been stunned by an album I wasn't expecting since that time I got an advance of #BackToBlack. The music is so lush man, I can see the kaleidoscope color mesh of the #Westbound logo. Dude I can't curb my enthusiasm. All I know is if #P4k try to play him again with these ratings there WILL be a riot goin on.
The 59th Grammy Awards are set to air on Sunday, February 12 on CBS and will be hosted by the James Corden. Full list of nominees here.