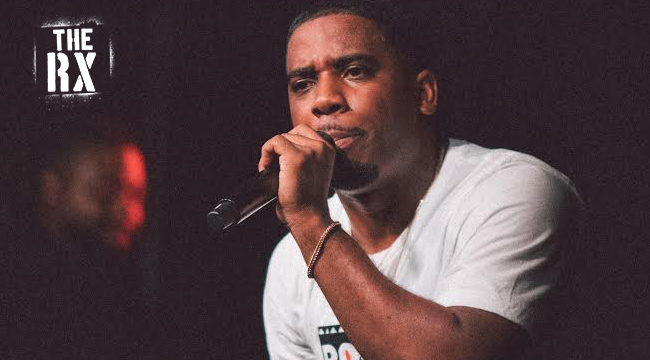 When Reason's name first appeared on the Black Panther soundtrack's tracklist on "Seasons," I was ecstatic. It meant that a rapper that I'd intently followed since his days freestyling on Instagram as a promotional tactic was finally getting his due. Of course, for listeners outside of South Central Los Angeles, that moment held a different, though not dissimilar interest — and in fact, for one select group of listeners a world away from Reason's stomping grounds, a confusing one. A small contingent of South African fans were disappointed to learn that this Reason was from a small city in Los Angeles county called Carson, not the South African rapper who goes by the same name. South African Reason told a local paper he hadn't even heard of American Reason at the time, but he wasn't alone.
Reason, for his part, might be used to being overlooked — just like his hometown of Carson, which is by no means a well-known locale outside of the immediately surrounding cities that have overshadowed it for the last several decades of pop culture. Neighboring Compton, aka "the Hub City," is more populous, more central to transportation, and more well-known, largely through the efforts of TDE's own Kendrick Lamar in recent years.
However, Carson has secretly been the launching pad of some of music's biggest stars as well as the literal origin of Top Dawg Entertainment, where the crew maintained the studio that luanched many of their earliest works. Brandy and Ray-J count the small city as their hometown, as well as TDE's Ab-Soul, while Dr. Dre lived in the city during his middle school years. So it was only a matter of time before TDE found its next rising star there, a characteristically overlooked, understated beast of a rapper who'd hovered just below the radar for years, but is now ready to shine, as evidenced by his standout performance on the Black Panther soundtrack alongside fellow West Coast up-and-comer Mozzy and on his own electrifying TDE debut, There You Have It.
To be fair, Reason has always claimed a very specific portion of Carson: Del Amo, the very borderline where the cities of Compton and Carson collide (Long Beach is just east of this intersection) at the Del Amo Fashion Fashion Center — aka the swap meet. It's a fitting origin for a rapper who takes the best qualities of his TDE cohorts and mashes them together with a deft precision that leaves absolutely zero loose ends. His bare-bones flow is far less elaborate than Kendrick's, but just as vivid, it's heady like Ab-Soul and rugged like Jay Rock, but more polished than either. There's that winking humor from Schoolboy Q, but more focused. It's almost a wonder he wasn't already signed to the label to begin with; he certainly orbited the same social circles, but hadn't quite cracked the lineup until "Seasons."
When "Seasons" landed, I immediately went to his social media to congratulate him, but found that a number of posts were missing, the first sure sign something was afoot. It wasn't long before the handles reflected his newfound affiliation; from there the gears turned faster than ever, resulting in There You Have It, his first release under the Top Dawg imprint. The work paid off — Top Dawg Tiffith tweeted out the announcement of the new recruit in August, along with Reason's own announcement on his newly-rechristened Instagram. "Finally able to proudly put this out and say thank you to @topdawgent for welcoming me to the family," he wrote. "And a huge thank you to @dangerookipawaa for taking a chance on me. You saved my life and I'm here to work." And while the messaging reflects Reason's humility, it also downplays his success, abilities, and hard work.
https://www.instagram.com/p/BVtCEhOn2c5/?tagged=reasonfridays
Before he signed, there was The Proof, a 2016 mixtape featuring a series of wicked freestyles over such popular beats as Desiigner's "Panda" and J. Cole's "Love Yourz," as well as #ReasonFridays, a weekly series of freestyles filmed by photographer Nikki Boutte of Creative NLB, each proving that Reason was willing and able to self-finance his grind. Those releases still exist out there on the internet for anyone who cares to look for them, a testament to how quickly things can change — and how much happens behind the scenes, when it looks like there isn't any progress being made. Now that he's officially a member of TDE, he's got There You Have It, a re-release of his 2017 mixtape with production from SWI$H, Tropical Gameboy, Theopolis, and more.
Despite its origins outside of the TDE ecosystem, it sounds like the sort of eerie, honest, utterly arresting sonic experimentation that is native to TDE's in-house stable of producers — it could very well have been mixed by Ali. But it also rings of Reason's own clear-eyed, forceful style. His gravel-voiced tableau painting stands out from the pack in subtle ways, proving that he's his own man, even as he comes across as a baked-in member of the crew. Reason's been overlooked for long enough; there's no way he's going to blend into the TDE roster and vanish now — he's worked too hard, for too long. He's one of the gang, but he deserves his own spotlight. There You Have It just might be where his name starts to go worldwide — for real this time.
There You Have It is out now via Top Dawg Entertainment. Get it here.