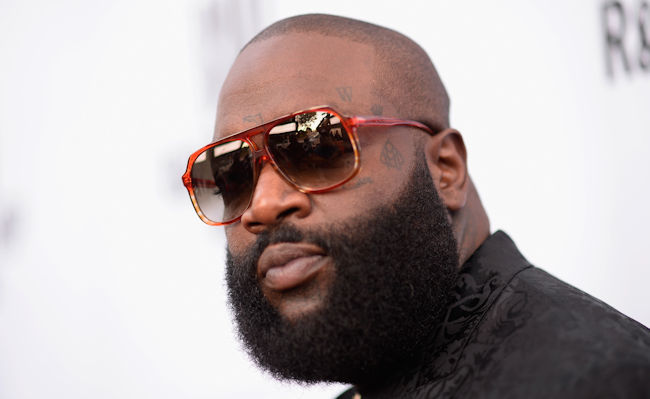 After a pretty heavy pre-release, promotional campaign, Rick Ross finally unveiled his next album Rather You Than Me. But before fans can got their hands on the full record, one song made it's way out into the public and it's a doozy. Titled "Idols Become Rivals," the new track is Rozay's way of teeing off on Cash Money Records founder Birdman.
The song opens with a spoken-word intro from Chris Rock where he talks about eating Wingstop before commanding the listener to "sit down in the corner, shut the f**k up and take notes b*tch." From there, Ross gets to the matter at hand. He admits that he "hate it came to this," and that, "I used to look up to you," but, "then I met you out on LiveNation dates / Came to the realization that your watch was fake."
The he chucked this bomb…
"Birdman's a priest, moans in his synagogue / Publishin' is a sin, repent, forgive me, Lord / Shots fired, home invasion out on Palm Ave / Red beam detonators, who the bomb now? / Look you in your eyes, n***a, 'fore I say good night / And pray that Mannie Fresh'll get to see the light."
He also alluded to some kind of beef between Birdman and DJ Khaled.
"What hurt me most is how you did my brother, Khaled/ Khaled was loyal to you, n***a / The pain I seen in my brother's eyes, FaceTiming my n***a, he took that to the chin / That's why my n***a Khaled blessed / You put my n***a in a hole homie / I don't feel you for that."
He ends the track with a plea, "Last request, can all producers please get paid?" Ross later clarified why he dropped the diss in a post on Instagram, saying it all came back to Lil Wayne.
Talking to Billboard in February, Ross revealed that something like this was coming down the pipe. "I've got a record titled 'Idols Become Rivals," he said. "It's basically me writing a letter to someone in the game that I looked up to damn near the most and I hate what things have come to."
Listen to all of Rather You Than Me below.