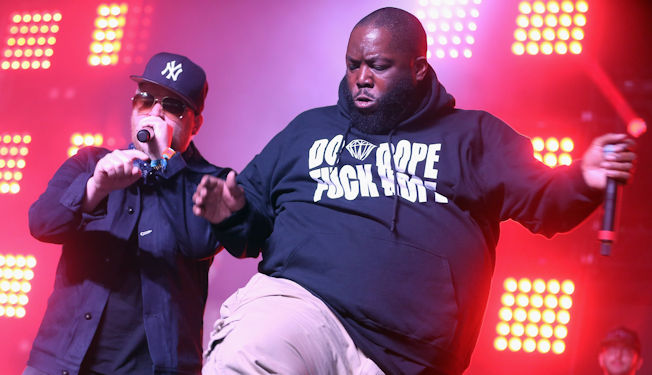 Run The Jewels say they didn't plan on releasing their latest track, "2100," featuring Boots, so soon. But, they knew so many people needed music to help soothe and guide them through this odd, eerie moment in time the nation's facing. Mike shared his thoughts on Trump's victory yesterday, noting that it was angry, disenfranchised voters who got the Republican candidate his win.
The accompanying SoundCloud note for the track puts its release in perspective. "For our friends. for our family. For everyone who is hurting or scared right now," it reads. "Here is a song we wrote months ago. We weren't planning on releasing it yet but… well, it feels right now."
The note continues by explaining the song is "about fear and it's about love and it's about wanting more for all of us." The track captures that sentiment in its words as Mike and Jamie both put words to the collective apprehension while trying to remind everyone that all hope is not immediately lost.
"I'm here to tell you don't let em tell you what's right wrong
Make love, smoke good kush, try to laugh hard and live long
That's the anecdote
You defeat the devil when you hold onto hope"
El-P followed up the release of the track with a tweet reiterating why they chose to release the track now. "We didn't write this song about the election. We wrote it about something bigger and," he said, "we wrote it several months ago. Seems to fit though."
A good fit indeed. Considering what's ahead for the country politically, it's a good thing RTJ's got a new album on the way to help everyone sort through what lies ahead.