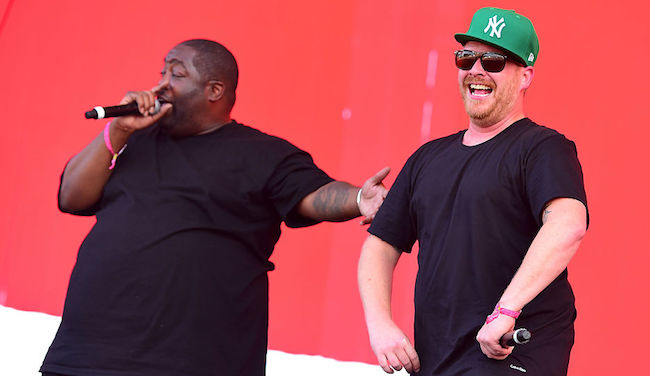 There is no better way to welcome in a new week than by being on the receiving end of new music from Run The Jewels. Our favorite duo returns to the airwaves with the track "Talk to Me," premiered Monday morning as part of Adult Swim's Singles Program. Released on the two-year anniversary of Run The Jewels 2, it doesn't take more than thirty seconds to realize how much we truly missed them. There's a lot of bravado and pointed political talk mixed as Killer Mike cites meeting a devil with "a bad toupee and a spray tan" and El-P barrels through verse two with a downhill flow that requires repeat listens.
"Talk to Me" is the first dose of what will be RTJ 3. It comes a few weeks after Mike and El had another new tune, "Panther Like a Panther (I'm the Shit)," pop up in a Gears of War 4 promo. Hopefully, a new RTJ project does arrive by spring 2017 because hip-hop needs artists who value lyrics and planting thoughts with their rhymes to balance out the scales a bit.
Listen to the song now over at Adult Swim, where your free download also awaits. Go ahead and give your week the boost it needs.
Update: You can now listen to the song below via SoundCloud.