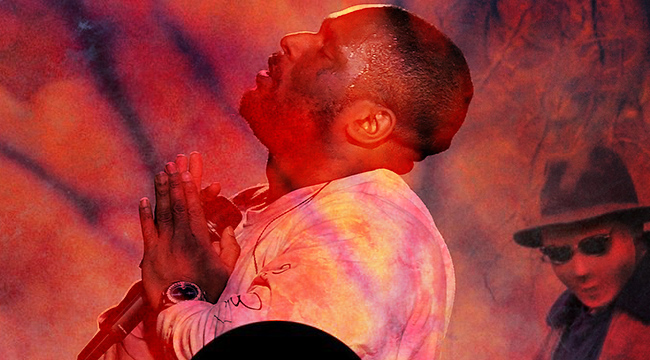 2016 was a stacked year for new music. We got event records from megastars like Kanye West, Drake, Rihanna, Chance The Rapper, Frank Ocean, and Beyonce. We got breakthrough efforts from the likes of Car Seat Headrest, Anderson .Paak, Mitski, Kevin Morby, and Isaiah Rashad. We also got solid entries from legendary mainstays like David Bowie, The Rolling Stones, Radiohead, and Paul Simon. But for all the tremendous albums that hit last year, the one that has had the most staying power for me has been ScHoolboy Q's fourth solo record Blank Face LP.
"All my music is pretty much dark," Q told Rolling Stone in an article that dropped the day Blank Face went live. Talk about an understatement. While it's true that Schoolboy has created many menacing works of nihilistic brilliance, Blank Face LP attained empty void shades of midnight. It's a document that thrives in the shadows, revealing different parts of itself in the faded glow of street lamps passing over the hood of your car while driving down lonely, deserted highways at 1 AM.
My impression of Q's previous effort Oxymoron was that it was merely good, so when Blank Face dropped last July, I wasn't eagerly anticipating it all that much anyway. Nevertheless, call it the old habits of a modern music critic, I stayed up late that Thursday evening to get in a first listen and see if the pre-release buzz was warranted. I was wholly unprepared for the eye-popping thrill ride that Q and his production team had put together. I listened to it once, then twice, then a third time. I stayed up well past the point of mental exhaustion trying to process this dense, foreboding collection of music.
Blank Face opens with the song "TorcH." The voice of Anderson. Paak rises out of a funky sonic tapestry of bass notes and garbled language. "Trade the noise for a piece of divine," he advises. Seconds later, Anderson is consumed by a fuzzed-out, warbling electric guitar. Q jumps in with his verse, commanding that you "Look through my mother**kin' ey-ey-ey-ey-ey's!" It's immediately apparent that you're in a different dimension of sinister. Mobb Deep, The Infamous, levels of icy menace.
This isn't an album about evil. It's actually far worse than that. This is an album about apathy. It's all about the masks you're forced to wear to stay alive in the violent, dog-eat-dog world that Q grew up in. Through the drug deals and shootouts, the moments when you're consoling the mother of your best friend who just lost his life, you have to keep on the Blank Face. Any betrayal of emotion is a sign of weakness and it could cost you're your life. That theme is driven home time and time again on songs like "JoHn Muir," the Vince Staples-scene stealer "Ride Out," and the Tupac homage "Str8 Ballin."
As a rapper, Q is all intensity and intrigue. His flow crackles with electricity. It's the vivid imagery he creates that really sets him apart from his peers. He's not going to change up his delivery two or three times in a track, adopt new voices and different guises, but picture-painting lines like, "The demons hate when you make it and stay alive / They'd rather see me down under than see me fly" on "Lord Have Mercy" and "Pistol through your Civic / Most die before they hear it, turn a n***a to a spirit" on "Groovy Tony/Eddie Kane" stick with you long after the running time is over.
Regarding the big single with Kanye West, "THat Part," it pains me to admit it — because I'm about as big a Yeezy stan as it gets — but it's one of my least favorite cuts on this record. I actually took the official version off the album in my iTunes library and replaced it with the far superior Black Hippy remix featuring TDE standouts Kendrick Lamar, Jay Rock and Ab-Soul. The original is fine, and smacked live during Ye's Saint Pablo tour, but it feels out of place in the context of Blank Face as an experience. ScHoolboy himself admitted as much in an interview he gave to Real 92.3.
"My album is serious from top to bottom," he said. "Even the other couple fun songs I got, I'm still splashing things in there like 'WHateva U Want.' It was like, 'When am I gonna have fun?' 'THat Part' was just for you to ride to." That's fine, but I'm not looking to have fun when I listen to Blank Face. I'd much rather hear Kendrick drop bars like, "That hearse the flirt with perks of a kill confessed / Dispersed the worst, the first 48 addressed," than to hear Kanye call himself a "Walking living legend" over and over again.
Speaking of Kendrick, this might be a good time to address the impact that the self-proclaimed "greatest rapper alive" has had on Q's career. In the eyes of many, just by sheer proximity, ScHoolboy Q will always be the sidekick, consigliere and also-ran to Kung Fu Kenny. I cannot stress enough how egregious this assessment is. In fact, it's my personal belief that, at worst, Blank Face LP is the second best release to ever carry the TDE banner. To Pimp A Butterfly might be more "important." DAMN might be commercially and culturally more relevant, but only K Dot's 2012 masterpiece Good Kid, M.A.A.D. City can overcome the sheer sonic and thematic grandeur of ScHoolboy Q's fourth album. It's that damn good.
Three days after Blank Face LP arrived, I secured a ticket to see him live at Concord Music Hall in Chicago. In those three days I'd been transformed from diffident admirer, to fan, to full blown acolyte. Going in, I didn't give a sh*t about hearing anything else besides the fresh cuts from Q's staggering work of brutal genius. "Collard Greens?" Meh. I've never in my entire life felt that way about an artist and a specific album so soon. And I haven't since, plus my admiration has only grown deeper in the last 361 days.
While Lemonade, The Life Of Pablo, Malibu, Coloring Book, and Views have all drifted back into the recesses of my library, Blank Face LP remains a regular fixture in my listening rotation. Especially at night, driving back home from a show in the city, either with the windows down to let in warm gusts of summer air, or sealed tight to protect from the icy chill of winter, it hits with a wallop. I feel like a g**damn super villain when I'm walking down the street and the beat to "Dope Dealer" is rattling around inside my cranium. "I put the knife to the coca leaf and turn that crack / I put the nine to your coconut and pull that back."
Maybe it's always been this way, but it seems like fans these days are so willing to canonize records right out of the box. Check all the 4:44 chatter surrounding Jay-Z at the moment. I've spent a year living with the best thing that ScHoolboy Q has ever produced and can say, with all the authority I've earned as a fan and critic of hip-hop, that Blank Face LP is an indisputable classic.