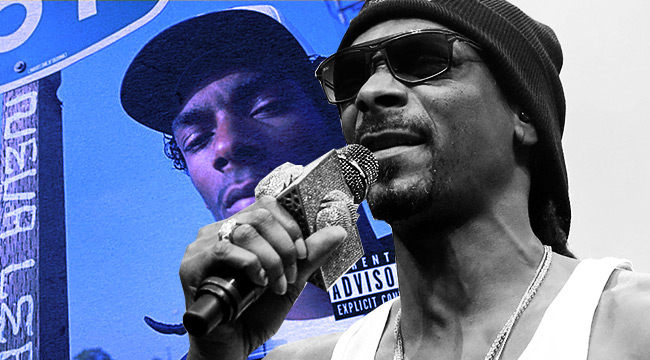 Conventional wisdom holds that rap is a young man's game. However, conventional wisdom is largely based on broad observations of what has gone before without taking into account one of the most infallible laws of nature: Things change. So long as rap has existed, it has focused on youth, but it is also one of the youngest genres of music — only about forty years, if one counts from the release of "Rapper's Delight" in 1979 as its official origin. Few rappers have lasted long enough in the public eye to even be counted among the Greatest Of All Time, yet the dominant conversation in hip-hop, almost from its inception, has been the question of which rapper, MC, or entertainer deserves that lofty distinction.
To mitigate the difficulty inherent in dissecting so many divergent styles and approaches, rap heads have taken to asking a slightly milder version: "Who's in your Top Five?" The list varies from person to person; for some Tupac and Biggie didn't live long enough, Eminem is too silly, Nas has had too many lulls in quality. But for far too long, one name has been missing from that conversation: Snoop Dogg.
From his first appearance twenty-six years ago, in 1991 on the first single from Dr. Dre's genre-defining The Chronic, "Ain't Nothin' But A G Thang," Snoop Dogg has captivated the mainstream's imagination, dazzling us with an air of nonchalant menace. Born Calvin Broadus in the Los Angeles suburb/city of Long Beach, Snoop exudes cool; he is as laid back as he is genuine, approachable yet inscrutable. He has reinvented himself any number of times through nearly three decades of relevance, from his debut album Doggystyle all the way through to his latest, Neva Left, which is releasing this Friday. Yet this one fact remains as immutable as the length of his hair; through Jheri-curls and perms, cornrows and locs, the Dogg is cooler than the breeze in the city he hails from, and his music has been every bit as consistent. It's long past time for hip-hop to recognize his greatness.
Upon his first appearance and through the nineties, Snoop was the avatar of gangsta rap. Proudly repping his set — rollin' 20s, Eastside Long Beach — he was the quintessential figure of mainstream America's nightmares. Through five LPs and seven years, beginning with Doggystyle in 1993, through The Last Meal, released at the end of 2000, he terrorized suburban soccer moms through the headphones of their children with tales of dope pushing and gang-banging, with language more filthy and irreverent than anything even the rock and roll generation had ever heard.
Clearly influenced by the sounds of Bootsy Collins and Roger Troutman, Snoop's early oeuvre wound through and around the grooves of eighties electro-funk, cribbing equally from the Gap Band on "Snoop's Upside Ya Head" and Parliament on "Who Am I? (What's My Name?)" His voice was sublimely smooth, but his lyrics veered wildly into the hyperbolically raunchy on "Ain't No Fun (If The Homies Can't Have None)" alongside Kurupt, Warren G, and Nate Dogg — guests who became household names of their own largely due to their appearances with Snoop.
However, despite the often obscene wordplay throughout that first part of his catalog, he became one of the most quoted, imitated, and well-known MCs of the nineties. His longevity is testament enough, but look no further than the continued popularity of his early releases: "G Thang," "Who Am I?" and "Ain't No Fun" make consistent appearances in movies and trailers, television commercials, and nightclub dance floors almost thirty years after their release as singles. The latter still catches regular play on LA radio, despite the fact that the censored version may as well be just the instrumental through each of the guest rappers verses — particularly Kurupt's contribution. Snoop's indelible pronunciations of phrases like "fo' shizzle" and "the shiznit" have become common parlance, and everybody knows what a crip walk is, thanks to the music videos that accompanied the records with visuals from Long Beach life.
The early aughts brought a far more exaggerated, cartoonish, and popular style to hip-hop music, and Snoop was no late adopter. The now-veteran rapper showed an astonishing ability to adapt, incorporating the production of newcomers The Neptunes and vocalist Pharrell Williams on tracks like "Beautiful" from Paid Tha Cost To Be Da Boss. While his content didn't change much, he began to revamp his approach; rather than continuing to play the part of the Doggfather or the streetwise hustler, he pivoted into an older, wiser, O.G. persona. Now he was the wise old head on the block, Uncle Snoop. He began mentoring younger MCs coming up in the game such as 50 Cent and Lil Bow Wow (yes, Bow Wow used to actually be famous for something other than taking L's on social media), much the way Dr. Dre and Tupac mentored him.
He continued to collaborate with Charlie Wilson, but allowed "Uncle" Charlie to take the center stage on tracks like "Signs" along with Justin Timberlake on R&G (Rhythm & Gangsta). He threw himself further into his pimplike persona and indulged his eighties funk sensibilities even further on Ego Trippin' with "Sexual Eruption," the video which featured Snoop playing a synthesizer with a vocoder firmly jammed into his jaw and trippy, retro visual effects that recalled Funkadelic and Earth, Wind, And Fire sets of years gone by.
Yet, through it all, the quality remained just as high. He continued to chart and to extend his influence over pop culture. MTV aired Pimp My Ride with host Xzibit, borrowing both nomenclature and aesthetic from Snoop's videos of the time, which heavily featured pimps, highly customized ("tricked out," or "pimped") lowrider muscle cars, and the car club culture of Los Angeles, which Snoop had proudly championed from day one. No other MC could be said to have had as profound an impact on pop culture while successfully changing their image from the one that had initially contributed to their overwhelming popularity.
Then, perhaps feeling he had exhausted all of the potential of his explorations into funk and gangsta rap, came Snoop's weirdest turn, but the one that probably best describes his original super power: Reincarnated. Donning full on Rastafarian dreadlocks and West Indies-inspired wardrobe, Snoop changed his name to Snoop Lion and made an actual reggae album. Questions of quality aside (I thought it was rather good), the experiment proved that Snoop had achieved the type of versatility that would insure his continued success in the musical realm no matter what he decided to do next, which might explain why, while other rappers who premiered in the golden era of rap grumpily aim their discontent at the younger generation, Snoop has been able to adapt to changing times. Rather than directing his ire into disgruntled missives decrying the shortcomings of kids these days, Snoop will happily step up to a collaborative album with Wiz Khalifa, Mac And Devin Go To High School, and toast a kindred stoner spirit on wax.
And instead of pursuing a major label partnership or even just a record deal, he has released his last two albums, Bush and Coolaid, and will release the forthcoming Neva Left, on his own label, Doggystyle Records. Bush, produced in collaboration with Pharrell, received positive reviews, while Coolaid was praised for its production and Snoop's rapping, which remains at a technical high, even nearly three decades in.
Even Jay Z is considered to have fallen off lyrically since American Gangster, while other contenders for the GOAT crown don't have half the longevity, and have been criticized for either chasing trends or not keeping up with the times (See: Eminem). Even those who potentially could have done so, such as Lil Wayne, have found themselves embroiled in label shenanigans that have kept newer releases bound up in red tape. Snoop keeps on plugging away, making the same music that made him great in the first place, but showing a willingness to experiment without changing the core of what makes him so very popular.
The simple fact that Snoop Dogg has remained a household name, while consistently putting out great music, should put all debate to rest. Very few other names that regularly get brought up in the Top Five discussion hold the same weight that allows him to put out his weekly YouTube talk show, GGN, with guests as wide-ranging as Ty Dollar Sign and Seth Rogen, host an honest-to-goodness cooking show with Martha Stewart, and self-release albums that bang from beginning to end like Coolaid. No other artist that preceded Snoop or debuted in the same time frame can be tossed into a casual conversation with a non hip-hop head, other than Jay Z, Dr. Dre, and maybe Nas.
Big Daddy Kane, Rakim, KRS One, no disrespect, have all faded from public consciousness and newer names like Kanye West, Drake, Lil Wayne, or Eminem have yet to prove that they can stick for longer than twenty years. With no other serious contenders for that coveted fifth spot, it's high time rap stopped sleeping on the Doggfather and put some respect on his name — whether they keep the "Doggy" is negotiable. All hail Snoop Dogg; if not the Greatest Of All Time, then the most solid name in the all time Top Five.