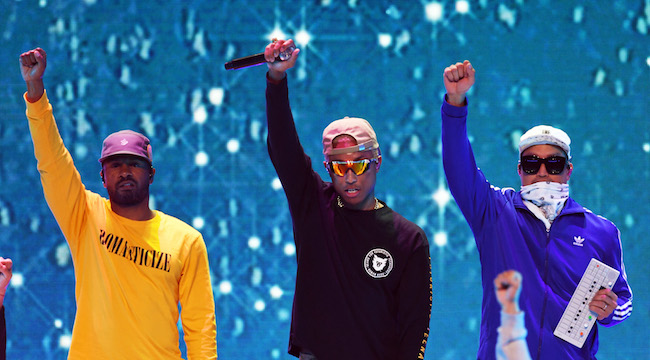 Spotify is teaming up with creative collective Saturday Morning and Grammy-award winning singer, songwriter, and producer Pharrell Williams to celebrate Black History Month all year round with the second volume of its Black History Is Happening Now initiative, amplifying Black voices through video, podcast, and music curation.
The Black History Is Happening Now hub can be accessed directly through the Spotify app, and will feature videos and other content curated by Pharrell himself. Pharrell's longtime collaborator Paul Hunter has directed three original videos, "Pharrell Is Black History," "A Very Serious Force," and "Something Awakening" to showcase Pharrell's perspective on Black culture. In the videos, Pharrell speaks on the power of Black women, saying, "I think that what's going to save not only this country but save the world are the Gen Z-ers, the millennials and the women." Pharrell is the second artist to collaborate with Spotify on Black History Is Happening Now after Janelle Monae, who curated several playlists and a short film on Afrofuturism.
In that spirit, Spotify is also launching an initiative to support up-and-coming Black, female creators. With BLK@Spotify, the company will deliver funding to three Black, female creators breaking new new ground across film, literature, and visual arts, in order to create original content and support representation of Black women in those fields. Spotify previously launched a tool to promote gender equality through playlists and has pushed to spotlight more behind-the-scenes creators with its Secret Genius program featuring artists like Boi-1da and Starrah.
The hub can be accessed with this link or from the "Browse" section of Spotify's homepage.