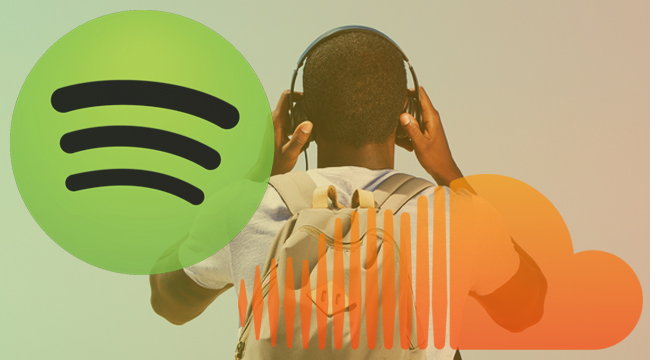 According to a report by the Financial Times, Spotify is in "advanced talks" to purchase Soundcloud. The possible merger would give Spotify access to Soundcloud's reported library of more than 125 million songs. Soundcloud would receive a much-needed financial boost after its $10 per month Soundcloud Go subscription service has failed to catch on since it launched in March.
The bigger question, however, is how the rumored move could impact Soundcloud as a vital service for independent artists. More than YouTube, Spotify, Apple Music, or any other streaming platform, it's the easiest way for an artist to bring new material directly to their fans. As the direct successor to MySpace, Soundcloud lets any user upload music free, eliminating the necessity for — or interference from — a record label. Artists also benefit from the social and discovery aspects of the service as likes and shares of tracks pulls new music into each user's feed by customizing their algorithm. Furthermore, any Soundcloud track shared to Twitter can be streamed without opening another app, giving it another advantage over Spotify or Apple Music.
Fetty Wap is one example of an artist who used Soundcloud to propel himself to success. An early version of the New Jersey rapper's future No. 1 hit "Trap Queen" was released on the service in March 2014, where it reached 1 million plays and built up enough buzz to catch the attention of his current label, 300 Entertainment. From there, the 25-year-old set a record with four singles in the Top 10 of the Billboard Hot Rap Songs chart at the same time. While Fetty certainly put in some old-fashioned footwork, by selling a physical mixtape with the track in his hometown of Paterson, New Jersey, SoundCloud allowed him to reach a worldwide audience.
Similarly, Post Malone signed his deal at Republic Records after his track "White Iverson" blew up through Soundcloud. While the singer-rapper has yet to release a studio album, he wouldn't have landed names like 2 Chainz, Jeremih, and Lil Yachty on his debut mixtape, August 26, without his initial Soundcloud boost.
Mainstream artists like Drake and Kanye West also still use SoundCloud as a way to circumvent their labels and upload music directly to their fans. Drake has long released non-album tracks through the service, and it's where the Toronto chose to release his one-two punch of "Charged Up" and "Back To Back," during at the start of his beef with Meek Mill during summer 2015. As for Kanye West, he released four tracks — "Facts," "Real Friends," "No More Parties in L.A.," and "30 Hours" — before the release of The Life of Pablo to give listeners a taste of the album.
Drake and Kanye will be fine without SoundCloud because it's only one of the many tools at their disposal, but independent artists don't have the same resources to reach the ears of new listeners and hopefully, record executives. Making it in the music business is already a near impossible task, and losing SoundCloud would be a major blow to any hopeful musician's chances. If Spotify does buy the service, it's worth asking how they will work with this tier of talent to make sure they don't lose them to whatever alternatives are certain to crop up. However, if they are able to harness that discovery power and combine it with the rest of Spotify's tools, we might have a new streaming service victor on our hands.