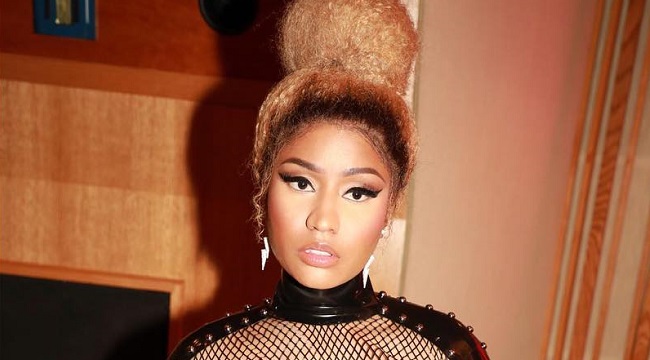 After a couple months of silence, Nicki Minaj is back. Mike Will Made-It said they had "fire coming," and just a week later we've received a couple stokes of the flame. She's capitalized off her prolonged absence from the game to build anticipation for new music, and now fans are receiving the payoff with a whopping two singles in one day.
Her Barbies on Twitter are even deeming today #NickiDay. The Queens rapper said she didn't just unplug from social media while creating her upcoming album, she outright deleted the apps. "Why am I taking this into my spirit," she told Zane Lowe on Apple Music today. That process has resulted in an album that she says is her best yet. "I'm definitely a dominating voice in hip-hop culture, and hip-hop culture is the most imitated culture in the world," Nicki said. "And of course that always makes me feel a responsibility to uplift women, especially."
The album will likely needlessly be pit against Cardi B's Invasion Of Privacy, though we hope more people think like Game (in this aspect) and realize that both women can have their own lane.
Along with the "Chun-Li" and "Barbie Tingz" solo tracks, which Nicki describes as more "pop shit type records," she also kept her hot streak of featured songs alive by partnering with Young Thug on "Anybody," a synth-driven trap burner. The ominous song is apparently matched by a murky red lyric video that we'll see in full later.
[protected-iframe id="585d648061eb5d00029b2576d7ab32fd-60970621-76566046″ info="https://open.spotify.com/embed?uri=spotify:track:2qsQ8eVDPmobZpvDxQCVQu" width="650″ height="380″ frameborder="0″]
[protected-iframe id="ce7e83ca538da9750adb63cf259d0103-60970621-76566046″ info="https://open.spotify.com/embed?uri=spotify:track:2gTYVoQCUh0QNUaFix01ld" width="650″ height="380″ frameborder="0″]