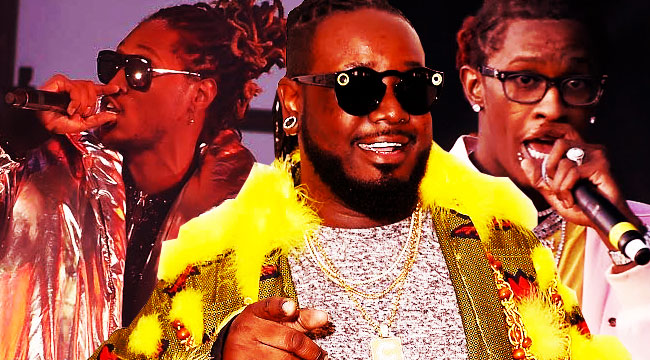 Future, Young Thug, Lil Yachty… the list of "rappers" who spend at least part of their time crooning has extended by several orders of proportion since 2005, when a Tallahassee, Florida entertainer by the name of T-Pain first gave us a taste of a Rappa Ternt Sanga. And in a twist of irony, those names have become decidedly more popular than many of straight-up rappers who've come along in the same time frame, even as more serious-minded MCs, such as Drake, J. Cole, and Kendrick Lamar, have begun to incorporate more melody into their own output. Pain himself will gladly claim credit for this phenomenon, saying, "If you feel bad about the music industry, it's my fault."
Yet, T-Pain has been conspicuously absent throughout the unprecedented explosion in popularity of the sound he arguably pioneered. While his style of blending Autotuned singing vocals with hip-hop narrative sensibilities and delivery was considered novel in upon his debut, by just five years later, it was being widely derided as a gimmick, culminating in Jay-Z's "Death Of Autotune" record and a corresponding nosedive in T-Pain's fortunes.
At his height, from 2006 to 2010, T-Pain was featured on more than 50 chart-topping singles, including Flo-Rida's "Low," which went six times platinum. However, as demand for a full album of T-Pain vocals plummeted, the affable musician's substantial production talent and legitimate vocal abilities were sidelined, relegating him to appearances on other producers' and rappers' popular choruses and eventually, to just about disappearing after only two more short years.
Now, T-Pain is back with a new album, entitled Oblivion, and a new look — cleaner, stripped-down, without the self-parodying top hat and giant pendants that marred his last year of popularity — and the timing couldn't be better for his return to the spotlight.
Now that the rapper-turned-singer blueprint is more-or-less par-for-the-course in hip-hop, T-Pain's second chance to shine has become apparent. No longer would his Autotuned warbling be considered offensive to the sensibilities of mainstream rap; on the contrary, now that so many rappers are singing, his style fits right in, but his status as an originator of the style gives him an edge on the competition.
For one thing, he's always been a stronger writer than he's been given credit for, and in today's landscape of ultra-relatable rap personalities, few are as relatable as Pain. He sings about being down and out on prior tracks like "Time Machine" and "I'm F*cked Up," his ironic twist on Konvict Music label boss Akon's "I'm Locked Up" single, with the sort of detail that proves he's been there before.
In "Sounds Bad," a tragically-overlooked gem from his second album, Epiphany, he details living on the edge, lamenting that he has "the whole house running on the generator," with "no good food in my frig-i-dator," which is something anyone who's been down to the last dime can relate to.
His debut single, "I'm Sprung," depicts an ill-fated crush on a professional pole dancer, and who can't say they've spent a little more than they meant to at the strip club? I would argue he pioneered the entire sound that made Drake the go-to for melancholy rumination of bygone loves, only without sounding half as mawkish. His single from Oblivion, "Textin' My Ex," proves he can still maneuver in that space with the best of them.
Speaking of "overlooked," another thing T-Pain has in his favor is the simple fact that his own vocal ability is far greater than he was ever given credit for, as proven by the bemused reactions to his NPR Tiny Desk Concert performance. After he appeared unaccompanied by his signature vocal enhancements, fans were pleasantly surprised to discover that he can actually hold a note for himself.
Without relying on machine assistance, Pain already stands out from the increasingly crowded lane he helped to create, as one or two decent performances are likely to garner a similar response from fans and give him a wider expanse of styles to draw from. While Future or Young Thug can sing-song their way through most of their tracks, neither really has the range to full-on belt, whereas Pain can actually unleash a versatile array of song types including ballads and covers of classics like his approach to Sam Cooke's "A Change Is Gonna Come."
On top of all that, lest anyone forget, T-Pain can rap his ass off too. "Church," from Epiphany, is a vigorous exercise in high-speed lyrical virtuoso, while each of his album intros feature more punchlines, interior rhymes, and old-school rap boasts than you can shake a pair of oversized stunner shades at. Furthermore, he's demonstrated his ability to vary his rap flows as well, from the double-time rattle of "Tallahassee Love" to the ragamuffin patois of "Shottas," T-Pain has the skill to switch effortlessly and convincingly between different lyrical approaches, which is something many of his now-contemporaries have yet to truly master.
Even though Thugger has shown a willingness to wander far afield of traditional rap styles, he hasn't always shown the ability to comfortably switch tempos and his rhymes are usually straightforward and simple. The same can be said of Future, whose style is so distinctive-yet-pat that Desiigner was mistaken for him early In his career because of a similar approach and vocal tone.
None of this is to demean contemporary rappers, only to demonstrate how easy it should be for T-Pain to find his place in the lane amongst his stylistic progeny. With that being said, four years is a relatively long time for someone to be gone from the spotlight. For older fans, he may not be able to shake the "gimmick" title he got stuck with so long ago, and many of them probably aren't really checking for new T-Pain in 2017 in the first place.
Meanwhile, younger fans who have already picked their favorites may not be as receptive to a "newcomer," especially if they perceive that he's an older artist. Pain's mid-'00s sensibility might not resonate, leaving him in a kind of musical no-man's-land in the current cultural landscape, despite having helped to configure it with his own musical risk-taking.
Ultimately, the only thing that can prove Oblivion's place in the listening public's perception is the music. While T-Pain may have played a huge part in kicking off the current musical trend of singing rappers and rapping singers, the songs on Oblivion will have to do what the songs on Thr33 Ringz, Epiphany, and Rappa Ternt Sanga never had to: Stand out and fit in at the same time.
They'll have to strike just the right balance between nostalgic, for his old fans, and novel, to attract new ones. Considering RCA Records bounced the release date all over the place before finally settling on this Friday, Pain won't be able to count on incessant radio play this time around. Second chances in the music business are few and far between, but T-Pain, who's made a career of bridging gaps since 2005, is one artist who is uniquely suited to the challenge.