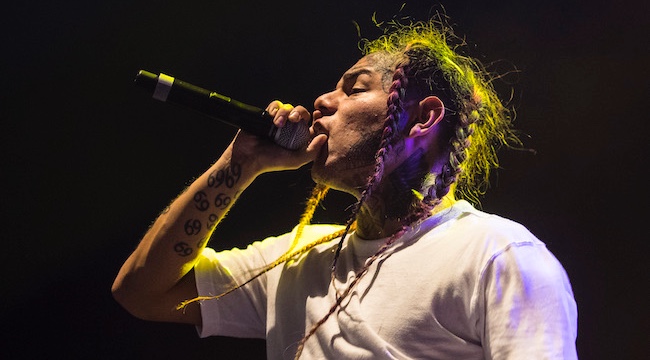 The release of Tekashi 69's debut album, Dummy Boy, has reportedly been postponed as a result of his recent arrest.
DJ Akademiks, the social media personality best known for his tenure on Complex's Youtube show Everyday Struggle and former 69 manager who maintains close ties to the rapper and his business, announced on Twitter that the album would not be released November 23 as originally planned, instead being postponed indefinitely. It was Akademiks who initially broke the news of the arrest due to his ties with Tekashi, so this report has a pretty reasonable chance of being legitimate, although the final decision ultimately rests with Tekashi's label TenThousand Projects.
"6ix9ine's 'DUMMY BOY' album will NOT be released on Friday (11/23)," he wrote. "The album release has been postponed till further notice." Tekashi shared a teaser tracklist to social media just two days — the day of his arrest — that held features from A Boogie, Bobby Shmurda, Gunna, Kanye West, Lil Baby, Nicki Minaj, and Tory Lanez. With Tekashi 69 currently locked up, it would be extremely difficult to continue the album's promotional run — for instance, Tekashi would be unavailable for any video shoots outside of the existing "Stoopid" with Bobby Shmurda (who was also unavailable for that shoot, since he's also in prison for pretty much the same thing Tekashi is in trouble for now) and "Fefe" with Nicki Minaj.
Presumably, more details will eventually follow from TenThousand, but if this report turns out to be true, it will be a blow for Tekashi, who's already facing a mandatory minimum sentence of 25 years in prison.