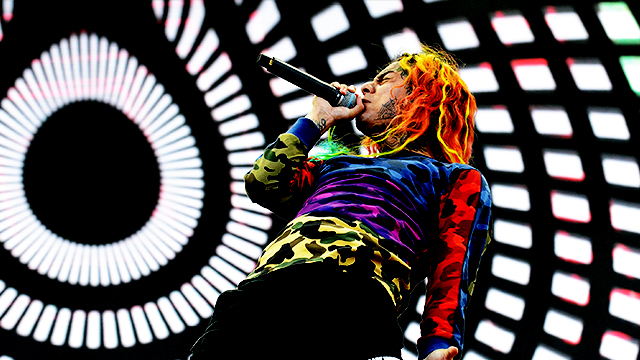 Last November, at the height of his infamy, Brooklyn rapper Tekashi 69 was arrested and lumped into a RICO case with members of New York's Nine Trey Gangsta Blood set, aka Treyway. He had just received a relatively light probation sentence in a sexual misconduct case. 69, or 6ix9ine, has professed his innocence via his legal team, but as of now is awaiting trial, which isn't scheduled to start until September. Throughout 2018, he had the rap world in the palm of his hands with a combination of adversarial bombast, controversy, and a polarizing, energetic sound that won him hoards of young fans. Follow his complete timeline below.
Summer 2017: 69 goes viral and signs with TenThousand Projects
Before anyone knew anything about Tekashi, they knew he was "the kid with the rainbow colored hair." For better or worse, the 22-year-old had a knack for courting attention. He immediately set himself apart from the hoard of young, debaucherous rappers in the underground scene with a striking visual aesthetic of rainbow-colored hair, large face tattoos, including a prominent 69 that was tatted all over his body. A July 2017 Instagram photo went viral in July 2017, and sometime that year, he signed with Elliott Grange's LA-based TenThousand projects.
November 2017: 69's "Gummo" debuts, he speaks with DJ Akademiks about his sexual misconduct case
With the surging "Gummo," 69 had a noteworthy track to go along with his noteworthy image. The rambunctious hit showcased him screaming threats and gangster affirmations at the top of his lungs over a Pierre Bourne beat. The video, which featured hoards of Bloods throwing signs and dancing in front of the Treyway crew's "dog house" was even more of a spectacle. The track managed to peak at number 12 on Billboard, making heads turn and people began to wonder exactly who he was.
They'd soon get their answer: In 2014, 69 was arrested and charged with sexual touching of a minor after posting videos on Instagram which depicted him smacking the butt and otherwise fondling a 13-year-old girl. The case was frequently brought up on social media and in various media outlets.
In an interview with media figure DJ Akademiks, who 69 noted was the only person willing to speak with him, 69 contended that the girl told him that she was 18 and that he felt like a "baby" being targeted by a predatory legal system.
He gave Akademiks his account of what happened that night and discussed the case, for which he was facing up to three years in prison. 69 had reached a plea agreement in the case, which was contingent upon him attaining his GED and staying out of trouble. After this interview, Jezebel published an in-depth story which challenged 69's claims with facts from the case's paperwork.
December 2017: Day69 drops, gets to number 4 on Billboard
Despite the sexual misconduct case being a prominent aspect of his profile, his Day69 album exceeded expectations. Spurred by singles like "Gummo" and "Kooda," the album sold 55K album equivalent units in its first week and reached number 4 on the Billboard charts. The album's success won him favor with TenThousand and affirmed that, for better or worse, the "Gummo" artist was no passing fad.
January — March 2018: A first quarter of beef
69 drew further attention to himself with a contentious social media persona that saw him flouting his Blood affiliation and daring people to "test his gangsta." In just two months, he sparked conflict with fellow Brooklyn rapper Casanova, his former friend (and labelmate) Trippie Redd, and "Gummo" producer Pierre Bourne.
69 and his crew also got into a fight outside a Minnesota club during a Super Bowl weekend performance and incited drama with San Antonio's Tanjo Orejon gang and Crip sets in LA. While leaving LA, he got into a fight at LAX airport with Houston-based rappers after catcalling a woman who was with them. 69 had his LA and San Antonio performances canceled because of the drama — and the stigma surrounding his sexual misconduct case.
In March, 69 got into it with LA rappers YG and Game, after he downplayed YG's career during a Breakfast Club interview and Game later called him a "fake ass blood" at a show. Game also offered 69 ominous advice on Instagram to "stop playing wit this blood sh*t"
April 2018: A woman accuses 6ix9ine of more sexual misconduct
Online publication Babe published 18-year-old Martha Gold's account that 69 had a sexual relationship with her when she was 17 and he was 21. Gold alleged that Tekashi met her in person in California after talking to her on Instagram. She says that she told him her age, but they still had a sexual relationship up until February of 2018.
April 2018: 69 is involved in a shooting incident at Brooklyn's Barclays Center
In April 2018, TMZ reported that 69's manager Shotti was "a person of interest in two separate gun-related incidents over the weekend," including a shooting inside Brooklyn's Barclays Center during an Adrien Broner fight. 69 and his crew allegedly got into a scuffle with rival rapper Casanova which turned into gunfire. 69 posted a video of he and Shotti laughing outside the Barclays Center while mimicking Casanova's "Don't Run" song. Eventually, Fuguan Lovick was charged with first-degree reckless endangerment for the Barclays Center shooting.
May 2018: 69 is charged for choking fan in Houston, and gets arrested for "assaulting an officer"
In May 2018, 69 was charged with assault after choking a 16-year-old boy at Houston's Galleria Mall in January of that year. The teen was allegedly filming 69 with his phone when the rapper demanded that he stop and his "bodyguards surrounded him in an intimidating way," according to reports.
Also in May, he was taken into custody in Brooklyn for parking in front of a fire hydrant and driving without a license. After being taken to the 77th precinct, 69 got into more trouble after "he allegedly grabbed an officer by the hand while his handcuffs were being taken off," which "caused pain and swelling" according to an NYPD spokesman who spoke with The New York Post.
Spring/summer 2018: Beef with Chief Keef and the Chicago drill scene
In May of 2018, 69 began associating with rapper Cuban Doll, who was previously involved with Chief Keef's cousin Tadoe. 69 and Tadoe posted a contentious argument they held on Facetime, which ended with Tadoe proclaiming, "I kill people." 69 then posted a video proclaiming, "f*ck Chief Keef, f*ck Lil Reese, f*ck all them n—-s," and told Chief Keef to "read about what happens to n—-s who beef with us" on Instagram.
The boiling feud may have gotten violent in June when Chief Keef was shot at outside of a Manhattan hotel. Page Six reports that Chief Keef chalked up the shooting to "beef between me and the rapper 6ix9ine."
69 denied involvement in the shooting, but later antagonized the situation by going to Chief Keef's Chicago neighborhood known as "O-Block" at 3AM and posting a video proclaiming himself being there on "no block" at 10 PM. He then took one of Chief Keef's child's mothers on a shopping spree, which he documented on Instagram. Though the two rappers traded occasional barbs throughout the summer and fall, the beef died down — until after 69's arrest when a video surfaced showing 69 implying that he had a $30K hit out on Tadoe.
July 2018: 69 runs into drama at Rikers
69 was arrested in New York on an outstanding warrant related to the Houston assault charge and was ordered to be held without bail until Houston authorities came to pick him up. He then ran into more problems in central booking. The New York Daily News reported that while being processed in New York's Rikers Island jail, members of the Trinitarios Gang verbally accosted 69 and threatened to cut him, purportedly due to his "test my gangsta" image. He was then moved to a secure facility before being allowed bail on the condition that he voluntarily surrender to authorities in Houston.
July 2018: 69 gets kidnapped
In the early morning hours of July 22nd, the same day that the video for "Fefe" dropped, 69 was kidnapped at gunpoint in Brooklyn and taken to his house, where over $750K worth of jewelry and $20K cash was stolen. Anthony Jamel Ellison was later arrested for the crime. Treyway member Snow Billy has claimed that Ellison was a disgruntled member of their crew who wanted fair compensation for "holding down" 69.
Summer 2018: "Fefe," "Bebe," and industry legitimacy
69 had previously told DJ Akademiks that he was being "blackballed" from the music industry because of his sexual misconduct case, but the alliances he was able to make in the summer of 2018 defy that assertion.
He squashed beef with Casanova and collaborated with him on "Get The Strap," a 50 Cent single. 69 had developed a relationship with 50 Cent in recent months, as well as other stars like Nicki Minaj and Kanye West. 69 and Nicki Minaj collaborated on "Fefe," a raunchy track that showed 69 toning down his menacing lyrical content to get freaky. Nicki also tabbed 69 to open up for her and Future on their tour before it was postponed.
In September, 69 reportedly met and collaborated with Kanye in Colombia. Their "MAMA" collaboration — also featuring Nicki Minaj — made 69's Dummy Boy album.
69 was also making inroads into the Latin Trap scene, collaborating with Anuel AA on "Bebe," a Spanish-speaking record which debuted at 30 on the Billboard Hot 100 and 14 on the all-genre Streaming Songs chart. 69 also toured in Europe and performed a set at the Made In America festival. The moves marked his ascension from a polarizing underground artist into a burgeoning star, despite all the controversy and legal issues.
October 2018: 69 gets probation in sexual misconduct case
69 got another break when he avoided jail time in his case for sexual touching of a minor. He received four years of probation from Judge Felicia Mennin, despite arguably violating the term of his plea agreement which required him to stay out of trouble. Judge Mennin contended that "you can't punish people for the way they choose to market themselves," though she has later said that she regrets her light sentence, which has since been closed as 69 deals with his federal case.
Trouble followed 69 right out of the sentencing hearing, as he was present during a shooting incident after a confrontation between his crew and his label's security.
November 2018: 69 rekindles his beef with Slim400
Just weeks after receiving probation, 69 was seen inciting a fight with YG affiliate Slim400 at ComplexCon in LA. Days later, a Beverly Hills video shoot for what was likely the 69, Kanye West and Nicki Minaj song "MAMA" was shot up before Nicki had arrived. TMZ reported that eight shots were fired, including one that went through a window of what was to be Nicki's dressing room.
November 2018: 69 fires his team and denounces Treyway
After accusing his manager Shotti and booking agency MTA of booking fraudulent shows and stealing his money, 69 denounced the Treyway crew and proclaimed that he had no affiliation with them.
He also did an impromptu interview on The Breakfast Club, where he aired out his grievances with his former team and noted that he saw FBI vehicles surveilling his home after a September raid in which a gun was found.
Fat Joe has said that it was around this time when 69 told him he had a feeling he was under investigation.
November 2018: 6ix9ine is arrested on RICO charges
69 was on his way to Connecticut's Foxwoods casino when he was arrested in a sweeping FBI, ATF, Homeland Security and NYPD gang indictment. The FBI rolled him into the "criminal enterprise" of Treyway, hit him with racketeering charges, and alleged that he filmed an April 2018 robbery of gang rivals and was present for a July shooting that left a bystander shot in the leg. His first bail request was denied, and he's currently facing life in prison from the six counts.
The FBI contends that they had wiretaps of Treyway members discussing plans to "super violate" 69 after his Breakfast Club interview, and vied to arrest him before he was harmed at the casino. He has since been transferred from the Federal Prison of Brooklyn's Metropolitan Detention Center to a federal facility that typically holds cooperating witnesses, though his Lawyer Lance Lazzaro has publicly proclaimed that they plan to fight the charges without cooperating and he was moved for mere "security reasons."
November 2018: Dummy Boy is released after delays
https://www.instagram.com/p/BqssCvuHjBu/
69's Dummy Boy album was set to release on November 23, but was pushed back to November 27 due to his legal situation. The album wasn't released on TenThousand Projects, but via Create Music Group, an LA-based independent label. A source told Complex that "Create Music Group is already Tekashi's music publisher and they have a music distribution division, so it makes sense for them to take on this album." The album sold 66,000 equivalent album units in the first week, trailing only Travis Scott's Astroworld.
February 2019: Guilty
Tekashi pled guilty to nine of the charges against him. Sentencing is forthcoming. 69 is currently being held in a federal facility in Brooklyn. He had a hearing scheduled for this month where the presiding Judge was to rule on whether Lazzaro could continue to be his lawyer after it was discovered that he was previously legal counsel for 69's co-defendant and former manager Shotti. However, now that 69 had pled guilty, the only thing left to do now is wait for the sentence.