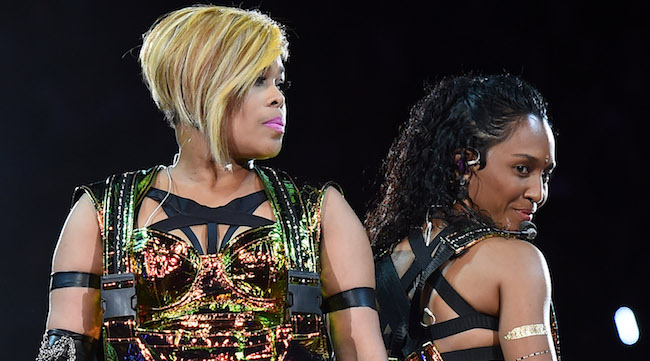 Nearly two years and $430,000 later, TLC finally has new music to share. Kind of. If you live in Japan.
Yes, TLC is finally putting that GoFundMe money to good use and beginning to give the 4,201 backers the music they promised them way back in January of 2015. You can put your memes, jokes and pitchforks away folks, T-Boz and Chili apparently used some of that donated cash to make two brand new songs. "Joy Ride" and "Hater" are the first two tracks off what the duo says is their final album, and the first official TLC album in over 14 years since 2002's 3D.
The catch is the two tracks were released in Japan and, because the country's citizens have always been huge supporters of the group, they immediately shot to the top of the iTunes charts.
According to T-Boz, the actual US single for the unnamed album won't arrive until first quarter 2017, after the group promised the album in 2015 on their Kickstarter. The two Japan-only singles arrive just as TLC is set to embark on a 35-show international tour, beginning in Japan before making its way to Australia, the Philippines and New Zealand. So say what you will, but it appears T-Boz and Chili know their core fan base.
Check out the two new singles below and if you have some yen handy, you can purchase the tracks on iTunes right here.
"Haters"
"Joy Ride"