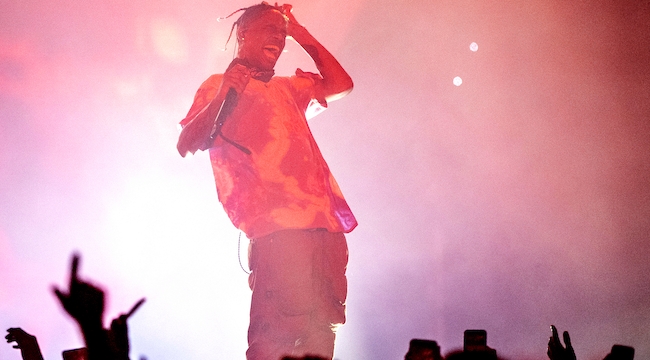 There's a level of confidence you have to have as a performer to name your tour and album after the biggest amusement park in your home city. Invoking nostalgic memories on record, and attempting to live up to the magic that a theme park contains to kids, is a heady, heavy task. Luckily, confidence is something Travis Scott has in spades, both as a live performer and as the mastermind of a new aesthetic movement in the rap world. He's crafted possibly the most influential new sound of last year, and it's already spilling into this one.
Astroworld is the product of a years-long initiative that Scott has discussed and daydreamed about as something of an opus for his sound, and when it finally came in the middle of 2018 it was beyond a revelation — it was a paradigm-shifter. Not, perhaps, since Scott's mentor Kanye West himself, has an artist had such an impact as both a producer and rapper on his own album. All of that is only magnified during Scott's enormous run across the US and beyond to support the album that might end up going down in history as his masterpiece. And just like West, the arena shows that have come along with this album cycle have been absolutely mind-blowing.
Last Friday at Los Angeles' historic Forum, Scott returned for the third time to another rowdy, rapt crowd, from those moshing down in the pit to the rest of the ragers up in the stands. His own electric energy gives even a massive venue like The Forum the feel of a DIY punk show — but artists like Offset, Quavo, and Drake don't come out for small-town punk bands; Scott has harnessed that same energy and taken it all the way to the top. There was a sense of euphoria in the air, as fans and the performer himself are both coming to terms with his new status in the rap world.
From the moment "Stargazing," the album's stunning first track, opens the show, it's a nonstop affair for Scott. A mini roller coaster operates on the B stage behind him, taking fans on a literal "ride" (in homage to the now-demolished Astroworld) throughout most of the show, and the slow crawl of this coaster punctuates his embrace of the psychedelic on slower numbers like "Stop Trying To Be God," creating a surreal experience for the watching crowd, and surely, for the super fan going in circles behind their favorite rapper. There were levels of noise and reaction from the crowd on Friday that paralleled the loudest and most excited I've ever heard or seen from an audience, and considering I've been going to shows professionally for the last seven years, that's an actual feat.
His "ragers" lived up to their name with an ever-circulating mosh pit on the floor — though luckily no one seemed to sustain life-altering injuries at this set — and Scott honored their devotion by lowering a semi-transparent screen around a group of four or five hundred of the fans closest to the main stage for several songs toward the end of the set, effectively creating a private set for part of the show. Even though he was playing one of the largest venues in Los Angeles, Scott still managed to create an intimate moment for the diehards who follow him closest, another gesture of thoughtfulness and forward-thinking from a rapper whose performance burns off the energy of reckless, immediate action. He may operate like an impulsive, spontaneous teen, but in actuality, every moment of the Astroworld tour is planned with forethought and precision.
Take, for instance, the aforementioned guests that graced this 2019 tour stop. When Scott hit LA at the end of 2018, right before Christmas, he brought out Gunna and Young Thug, one rapper who is rising rapidly, and one who was arguably on the same level as Scott at the beginning of last year. On Friday, he brought out Offset and Quavo (Quavo to guest on one of the most infamous collabs Travis and Thug have together, "Pick Up The Phone") and none other than Drizzy himself, for their smash radio single and Grammy-nominated (though not winning) hit "Sicko Mode." On a commercial level, Scott is just beginning to approach Migos-level success, on a critical and cultural level, he is finally nearing the top tier that Drake currently occupies.
But this new level of guest appearance indicated something else about Travis' confidence level, too — he wasn't afraid to share the stage with Drake, and truthfully, it was a huge look that the 6 God would join him onstage, too. It felt like a nod of recognition from Drake, and even a passing of the baton. After the duo performed "Sicko Mode" to an ecstatic, quite literally frenzied audience, the curtain dropped, the stage went dark, and the lights went up immediately. Like any kid obsessed with theme park magic knows, part of the trick is knowing when to leave them wanting more.