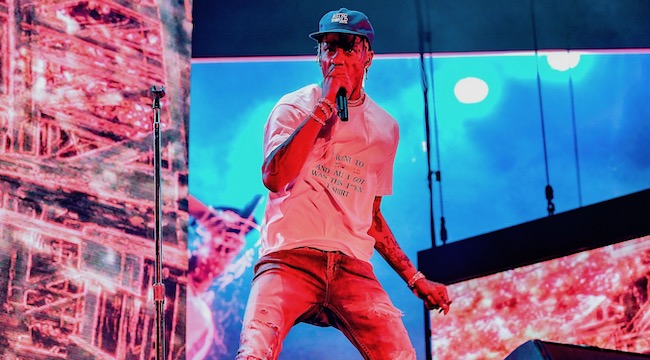 Travis Scott is one of the most exhilarating live performers in hip-hop today. Over the past few years, whether as a headliner in theaters, performing on a giant golden eagle while opening for Kendrick Lamar on his DAMN tour, or tearing it down at some of the world's preeminent music festivals, Scott has earned a reputation for bringing the highest intensity possible to his shows, so you already knew that by the time he hit arenas, he was going to pull out all the stops.
Last night, Scott found himself in Baltimore, Maryland where he kicked off the first performance of his highly anticipated Astroworld tour. He took the amusement park concept quite literally in fact, with one of the biggest set-pieces of the evening being a giant, working Ferris Wheel-like contraption, which was set out on a second stage in the middle of the crowd.
For people who plan on checking out the show when it hits your town, Scott is offering up a truly enticing proposition. As he mentioned in an Instagram post, he plans on letting one fan from every gig have a spin on the wheel. If you were on the fence about copping a ticket, you should really check out the footage of Scott's wild contraption for yourself. Tell me you wouldn't want to have a ride on that thing while screaming "Sicko Mode" from the top of your lungs.
Travis Scott's Astroworld tour is set to keep him on the road until the end of December at least. For ticket information, check out his official website here.