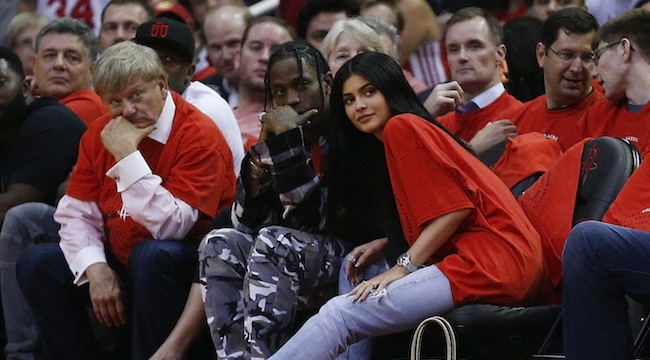 Travis Scott is getting ready to hit the road with Kendrick Lamar (and D.R.A.M.) in support of DAMN, but before that tour kicks off in July, it looks like he's devoting some time to his romantic life. In fact, he may be positioning himself as the newest member of the Kardashian clan. Scott was seen holding hands with Kylie Jenner at Coachella this past weekend, and now they've added to the dating rumors by sitting courtside together at the Houston Rockets' series-ending victory over the Oklahoma City Thunder last night.
Although neither has confirmed nor denied their rumored romance, Scott and Jenner looked like they were pretty comfortable with each other during the game. At one point, he had his hand on her leg, as seen in a photo below. That could mean nothing, of course, but given the context, it certainly seems like there's something non-platonic going on with them. This potential new romance follows Jenner's 18-month relationship with Tyga, which supposedly ended in March due to money issues between the two. Scott also has a history of high-profile significant others, since he was rumored to have been dating Rihanna in 2015.
Whether or not you're interested in celebrity pairings, though, this could be good news for hip-hop fans. Given his new Kardashian ties, perhaps Scott will start seeing more of Kanye West and they'll work on some music together. Maybe we'll get that new Cruel Winter compilation they've been promising for years now? They've shared the stage in the past and Kanye was sampled on Scott's Birds in the Trap Sing McKnight, so who knows. There's no harm in wishful thinking.