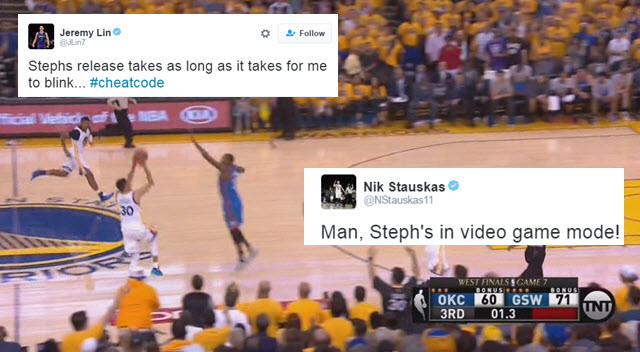 We finally know which team will compete against the Cleveland Cavaliers in the NBA Finals. The Golden State Warriors beat the Oklahoma City Thunder in Game 7 of the Western Conference Finals on Monday night, 96-88. The game was 48 minutes of the two best teams in the Western Conference throwing haymakers at one another, and per usual during insane Playoff games, NBA players went wild on Twitter.
Understandably, many players were blown away by the performances from Stephen Curry and Klay Thompson. The Splash Brothers combined for 57 points on 13-for-23 shooting from downtown, and players around the league showed respect to the best shooting duo of all time.
While everyone was praising those two, Speedy Claxton pointed out that the Warriors' unsung hero was, well, busy being the team's unsung hero.
The best interaction came via this conversation between a pair of former Milwaukee Bucks teammates: Jared Dudley and Kendall Marshall. Dudley mentioned that this game, despite being chippy, was being left in the hands of the players.
Marshall then chimed in and pointed out that Dudley was a fan of flopping, which he took in stride.
Even Lil B decided to chime in and remind everyone that The Based God's Curse, which he put on Kevin Durant back in 2011, is still active.
But back to the players, we'll give the last word to Cody Zeller, who said something that everyone outside Cleveland will probably be cool with.
Unfortunately for Zeller, that can't happen, but the good news is Cavs/Warriors should be outstanding. Game 1 in that series will tip off on Thursday night.