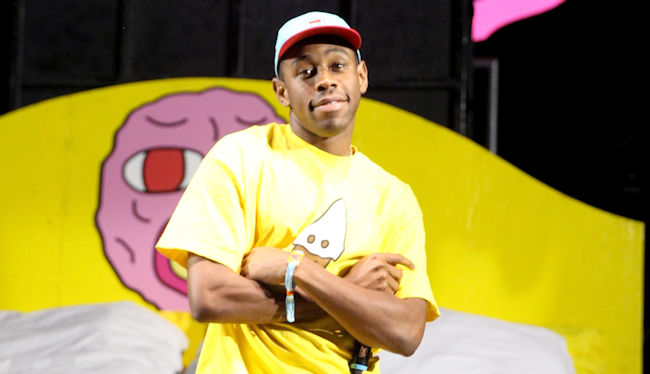 Throughout its history, Tyler the Creator's massive Camp Flog Gnaw carnival has found a way to incorporate all of his musical influences. Pharrell has showed up and played. Same goes for Frank Ocean. This year, the sixth edition of the carnival, may be the biggest yet. The two-day fest is scheduled to take place at Exposition Park with a massive lineup including Migos, 2 Chainz, Jaden and Willow Smith, Lana Del Rey, Kid Cudi, Roy Ayers, Solange, Migos, ASAP Rocky, 6LACK, Mac Miller, Justice, Kelis and more.
The Odd Future collective will also get their shine both individually and as a collective. Earl Sweatshirt, Taco, Mike G, Hodgy and Left Brain are all set to perform at the festival. So are The Internet, who've been teasing a new album for quite some time. Syd and Steve Lacy are also set to turn in solo performances.
Compared to other major festivals in 2017, Camp Flog Gnaw managed to include a healthy lineup of female artists from sultry R&B — Jorja Smith — to pop hybirds such as Kehlani and Bay Area firestarters such as Kamaiyah. Having an L.A. festival with both Kelis and Solange on the bill is a promise for some pretty heavy vibes.
Tyler has had one hell of a year for himself, starting with the success of his recent Flower Boy album, which came within less than a thousand copies of securing the Odd Future rapper his first number one. He's also about to air a brand new show on Vice about how things are made. With a lineup like this, Camp Flog Gnaw could be the cherry on top of a pretty sweet sundae.
Check out the full festival lineup above.