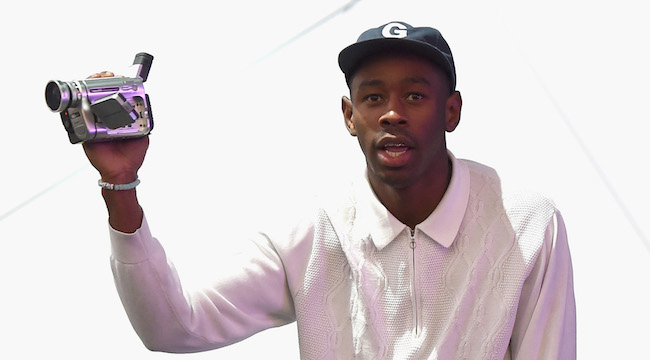 It turns out that despite his reputation as a lover of animation and general geekiness, Tyler The Creator actually hates Dragon Ball (one of the most popular animated series of all time) if his comments in his recent interview with GQ are anything to judge by. The interview encompasses Tyler and his The Jellies co-creator Lionel Boyce detailing their experiences on creating their first Adult Swim-aired cartoon, intentionally making the lead character Black to differentiate him from other Black characters on TV, the possibility of a Jellies soundtrack ("A lot of these things are real songs that do exist. One hundred percent you're going to hear some more."), and their favorite cartoons growing up.
This is where Tyler's disdain for the various Dragon Ball franchises become evident; in fact, he makes it a point to note that he doesn't even like anime (those odd Japanese cartoons that proliferated in the back half of the last decade on the Adult Swim and Toonami programming blocks). After Tyler expresses his contempt for the medium's artistic "realism," Boyce notes that Dragon Ball Super is his current favorite and Tyler lets him have it.
LB: Xavier: Renegade Angel was one of the craziest shows I have ever seen. I've been watching Bob's Burgers, they have really good music in that show too.

T: I f*cking love Big Mouth, dude. Watch it. I think the storylines are really good and I like how it's drawn. It's not too detailed where it takes you out of it, cause I didn't like anime growing up and I think that's why. There's something about Big Mouth though. They figured it out.

LB: Speaking of anime, I've been watching Dragon Ball Super, which is the greatest show of all time.

T: Trash! Only f*cking goobers who didn't have any friends like that shit.

LB: Sounds like you didn't have any friends. You're a dirty yellow dingy white tee.

T: [mimicking Dragon Ball Super] 'I throw spitballs and have stupid hair!'

LB: You do have stupid hair and everyone knows it! [both laugh]
The subject returns after interviewer Shakeil Greeley asks what kind of sea animals each would be, with Boyce replying that he'd never thought about it. Tyler's response? "You were too busy watching dumbass Dragon Ball Z, you uncultured f*ck." Hopefully, the overlap between Tyler fans and Dragon Ball fans is relatively small, or we could see a lot more moral dilemma Reddits popping up soon.