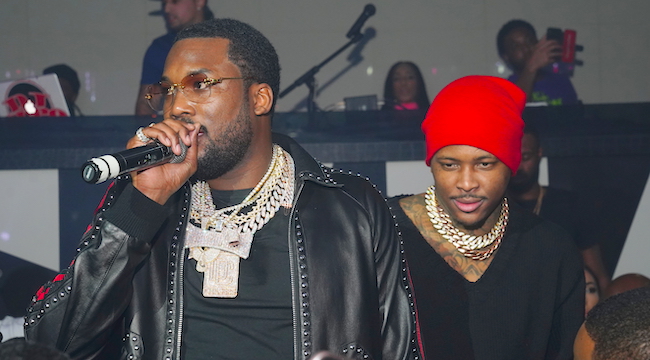 It's not rare to see YG and Meek Mill hop on a track together. Heck, they just did it a couple weeks ago when they appeared on Mustard's single "100 Bands," also alongside 21 Savage and Quavo. Today, YG released his new album, 4Real 4Real, and sure enough, there's a Meek Mill cameo on "Heart 2 Heart," a story-driven track (which also features Arin Ray and Rose Gold on the chorus) in which the two talk about friends they tried to help lead a better life, free of drugs and run-ins with the law.
YG shared the words of encouragement and advice he gave his friend, saying, "Find some helpin' hands that's gon' contribute to your movement / 'Cause anything is possible, just look at me, I proved it / Focus on improvement, results, no excuses / Stick to the script, know your vision, never lose it.'"
Meanwhile, Mill talked about a friend of his who found himself in trouble with drugs, and he said that he wishes him the best: "My young boy was toting that Glock, high off them opiates / Killed his dawg about some sh*t that wasn't appropriate / Judge gave him 20 to 40, he couldn't cope with it / And now he on the meds, I'm praying he hold his head, for real."
Listen to "Heart 2 Heart" above, and hear all of 4Real 4Real below.
[protected-iframe id="5711d2964f9f4a04839e7b29912bdbe0-60970621-76566046″ info="https://open.spotify.com/embed?uri=spotify:album:5zuM1EG06X1J7VsIF1omRm" width="650″ height="380″ frameborder="0″]
Meek Mill is a Warner Music artist. Uproxx is an independent subsidiary of Warner Music.