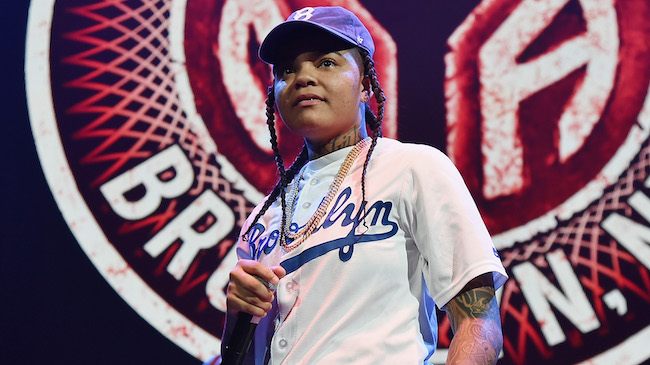 Young M.A. understands how complicated she can be as an artist to some people. After all, she's a woman who happens to be lesbian and also happens to be pretty famous now because of rap, built mostly off the strength of her catchy hit "OOOUUU." Her breakout 2016 is setting up what should be a strong campaign for 2017. For Fader's upcoming "Sex" issue, M.A. explains how New York helped her embrace everything she is at her core long before stardom called.
As her story goes, the now 24-year-old Brooklyn native starting rhyming seriously around age 18-19 shortly after her older brother Kenneth died and she needed a way to get her anguish out. He happened to be one of the people who pushed her to be herself, but he wasn't alone. M.A. credits not just her family but her whole city for making her feel like it was okay to be M.A., short for "Me, Always." She says, "I need to just be myself, express myself. In New York City, it's popular. I used to think to myself, Man, there's a lot of gay people out here."
She continues, "[I]t had me comfortable, it was like, I can be myself! I used to still try to hide it, until it was really overwhelming — there were just too much girls attracted to me!"
But M.A. knows she has to avoid the music industry's constant push to put things in a box and it's one of the pitfalls she's working to avoid. "If I change people's lives," she says, "that's all that matters to me. I don't want to be the first 'dyke rapper,' 'aggressive rapper.' I don't care for that."
Understanding how labels tend to want to label things is one of the reasons she hasn't rushed to sign a deal off "OOOUUU" became hot. "I wouldn't say I would never sign," she says. "But as of now, I'm comfortable. You give up a lot of control to a label, and we wanted to build our own empire."
So while she's comfortable with her sexuality and she's learning to get a grip on fame, she's firm in knowing that what makes her different is what makes her special. And it's also what has fans and listeners embracing her music first and everything else about her coming secondary.
Check out the full profile at Fader's.