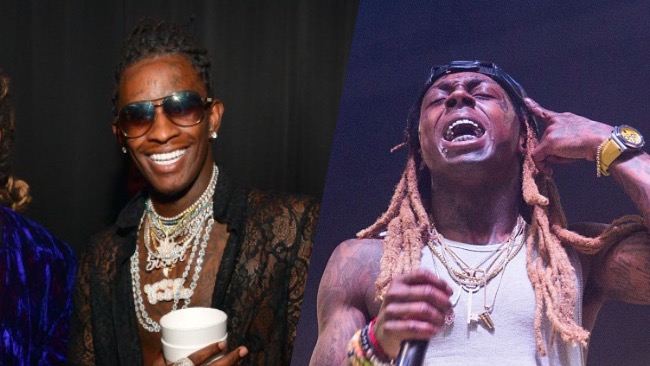 Throughout Lil Wayne and Young Thug's tumultuous, threat-filled history one thing has always remained consistent, Thugger views Weezy as his idol. As such, Thug's reaction to Wayne's upsetting retirement should be no surprise.
Jeffery took to Twitter in the middle of the night to once again profess his love for his idol, and even letting Wayne know "I'm with u for life." Thug also wrote Wayne was the reason he raps, and said he hopes Tunechi is sorry for bashing him "not knowing how much I love you."
In the earliest phases of Thug's career he sounded like a carbon copy of Weezy at times, often drawing comparison, all while openly admitting that Wayne was without a doubt his idol and inspiration. They only collaborated once, in 2014 on "Take Care" the track that eventually opened Thug's original Slime Season mixtape.
There were rumors at one time that they'd recorded more music together, and, with Thug quietly distancing himself from Wayne's foe Birdman, there may be hope for more collaborations in the future. That is, as long as the retirement doesn't stick. Oh, and as long as Weezy is over that whole deal about Young Thug's friend shooting at his tour bus and later admitting to it in court and implicating Thugger and Birdman as the parties who gave the order to shoot.