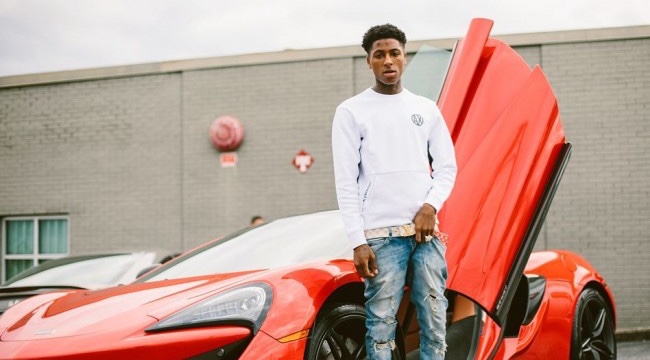 Baton Rouge rapper YoungBoy NBA (Never Broke Again) had been a the prime example of a hip-hop success story but now, he's become the latest up-and-coming rapper to face charges for violence against women. YoungBoy was arrested in February for assault, weapons charges, and kidnapping after hotel surveillance video depicted him beating his then-girlfriend.
He was released on bail last week and now TMZ reports that he has been charged with aggravated assault and kidnapping as the video showed him dragging the woman into his hotel room. Unfortunately for YoungBoy, born Kentrell Gaulden, he was already on a suspended sentence from a prior guilty plea deal for allegedly taking part in a drive-by shooting in Baton Rouge. In that case, he was sentenced to 10 years in prison but given a suspended sentence and three years probation in exchange for the guilty plea.
The terms of the deal included remaining alcohol and drug free, serving 250 hours of community service, and to refrain from criminal conduct. His recent arrest may violate that last term. As we've seen with Meek Mill's recent sentence of 2-4 years for probation violation, these convictions can stack up quickly and result in lengthy stints behind bars. With the video included as evidence, YoungBoy might have a hard time wiggling off the hook for these charges. It's a shame that he was unable to make use of his second chance, especially as he was just starting to gain fame.