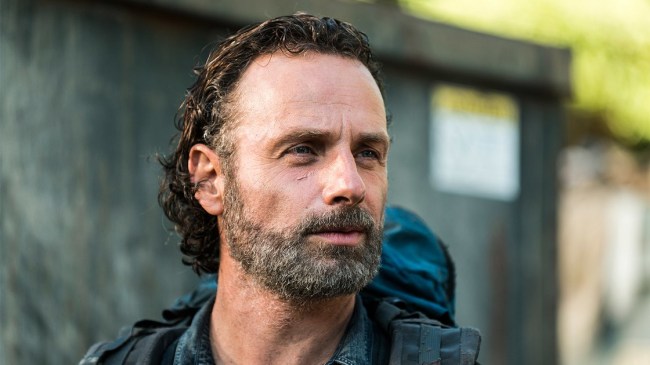 Last Sunday's The Walking Dead, the Red Wedding-inspired "The Calm Before," was the lowest-rated episode of the series. "The long-running AMC series dropped from the 1.7 it had scored the week before to a 1.5 rating in adults 18-49," reports TV by the Numbers, "an all-time low in the demo for the zombie drama." That's a bummer, because season nine has been really good. Certainly much better than the previous Negan-clogged seasons. Even Andrew Lincoln, who departed the show in episode five, is bummed that he left.
In a recent interview with Entertainment Weekly, Norman Reedus said that during a phone chat, Lincoln told him, "I picked the wrong time to leave the show because it's so f*cking good right now." His response: "Yeah, you did, dude. You picked the wrong time." (What else do you suppose they talked about? Probably hats. Hat chat between bros.) Reedus also discussed the season finale, which he called "nothing like you've ever seen on The Walking Dead before. It's completely different… It's a different look, 1000%, in the end. It's a huge, visually explosive episode that's going to be visually stunning."
One of the biggest season-to-season changes was Angela Kang taking over showrunner duties from Scott Gimple. Reedus credits her for bringing risks back to The Walking Dead and having a "punk rock" attitude:
"I love what Angela's doing to the show. She's very punk rock, Angela Kang. She jumps in. There's a confidence with our crew and with our cast and with our storytelling that we've earned over the years. If you're going to take risks, now's the time to take them, and they're all paying off After nine years, you have to reinvent yourself a little bit. I just want to make the show that we want to make, and it feels like that's what we're doing. You can feel it in the crew. You can feel it in the cast. You can feel it in the scripts. It's the show that we want to make."
The Walking Dead season nine finale (the plot description reads: "In the aftermath of an overwhelming loss, the communities must brave a ferocious blizzard; as one group deals with an enemy from within, another is forced to make a life or death decision") airs this Sunday, March 31.
(Via Entertainment Weekly)