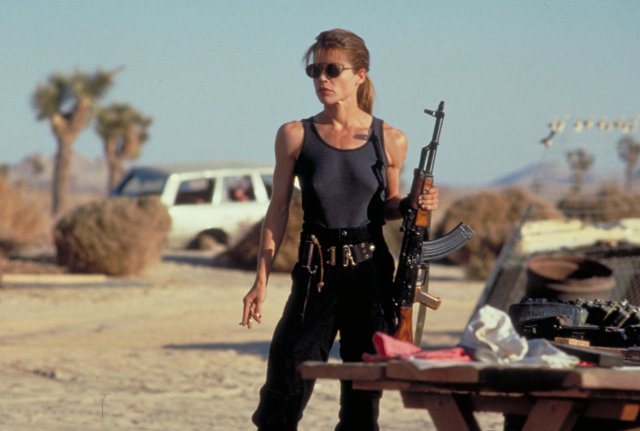 Arnold Schwarzenegger and Linda Hamilton are back, together. The two are reuniting on-screen for the first time in 27 years — since 1991's Terminator 2: Judgment Day — for the film currently known simply as Terminator 6. But pictures or it didn't happen. And so the erstwhile California governor took to his Instagram account to wish Hamilton a happy birthday, in turn gifting the world a photo of them on set embracing.
The photo is actually a two-fer — a before-and-after, with them circa 1991 on the left besides the new one. Schwarzenegger is very different: His T-800 android, an assassin whose subsequent models have been protectors, was, in T2, a tight piece of work with short, spiky hair. Jump to 2018, and he's weathered by age, and has a bushy beard. Who knew robots could grow facial hair? That said, when Ah-nuld co-starred in the franchise's last entry, 2015's Terminator: Genisys, he had gray hair, so what do we know?
As for Hamilton, Terminator 6 will be her first on-screen appearance in the series since T2, although she received a voice credit for 2009's Terminator Salvation. Her Terminator character, the everywoman-turned-tough doomsday fighter Sarah Connor, always comes up any time someone talks about female movie heroes who stand up to the system, so it's about time she came back.
The sixth Terminator is being helmed by Tim Miller, who directed the first Deadpool movie. Entries in the franchise have underperformed since its T2 heyday, but maybe fourth time's the charm.
(Via Deadline)