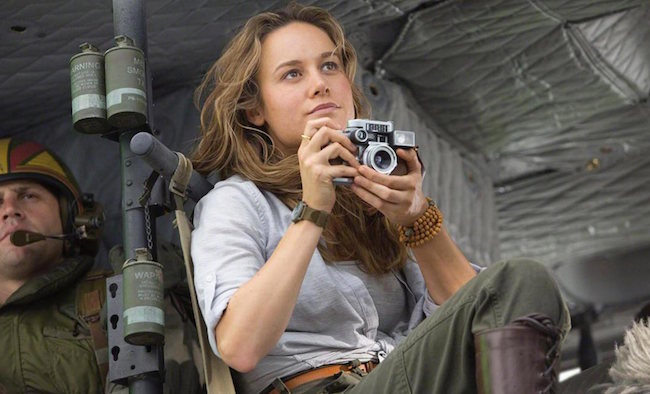 Comic book enthusiasts and superhero design obsessives were left a bit baffled when paparazzi pics surfaced of Brie Larson decked out in non-traditional Captain Marvel regalia. Marvel Studios president Kevin Feige knows about the pap pics and he's easing fan fears about the superhero's presentation in the upcoming film.
For context, here's Larson sporting black and green attire rather than the more familiar red and blue scheme. It is a bit Meteor Man come to think of it.
Chatting with Vulture, Feige gave an explanation (kinda) of what to take away from those images tumbling out into the world. He emphasizes that context is key.
If you want to film out in public — and Captain Marvel has a lot of scenes that will be shot on location — it's gonna happen," said Feige. "Everything is filmed [by paparazzi] nowadays, so years ago, we decided, 'If it's gonna happen, let it happen.' Most people are savvy enough to know they're looking at a behind-the-scenes photo, completely out of context. So we don't do things like rush photos. We released some concept art of her with different colors. People online have correctly identified what's going on there."
He also addressed the ever-increasing swell of female talent in the Marvel Cinematic Universe. Black Panther's colossal success complete with raves for Danai Gurira's Okoye, Lupita Nyong'o's Nakia, and Letitia Wright's Shuri has only added to the roster of impressive women in the MCU.
"It is an embarrassment of riches," Feige told Vulture. "Even watching the audience at the Black Panther premiere respond to Lupita, Letitia, and certainly Danai in their action sequences … you watch Danai spinning around in that casino, taking out dozens of people, and you go, 'Of course you can make a whole movie about that!'"
Avengers: Infinity War is the next Marvel film on the horizon and it is set to hit theaters on May 4.
(Via Vulture)