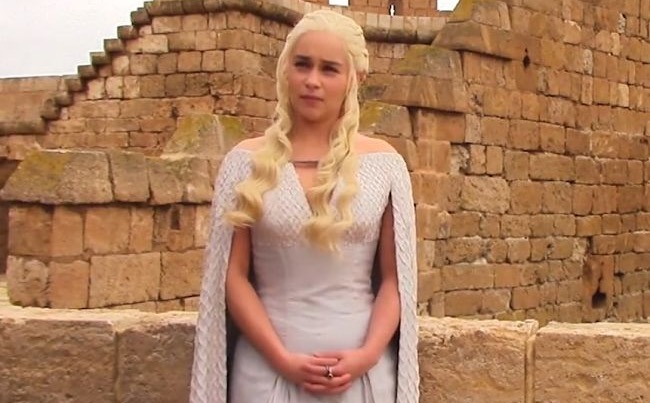 How did Emilia Clarke get the job of playing Daenerys Targaryen on Game of Thrones? Partially by doing the robot. So said her bosses, show co-creators David Benioff and D.B. Weiss, on Friday night while presenting the actress with the award for British Artist of the Year at the Britannia Awards.
So here's the story: The audition in question came after Clarke — who has already finished shooting her final scenes as Daenerys — had already shot the Game of Thrones pilot. Regardless, the president of HBO still demanded she audition for him.
It took place in a "corporate theater," which was "large, dimly lit and empty except for us two and the president of HBO," recalled Weiss. "We were smiling. He wasn't. It was quite possibly the least inviting audition environment we had ever witnessed."

The president remained stone-faced even after Clarke's initial reading. Continued Weiss:
"Emilia asked if there was anything else she could do to lighten the mood and David asked, 'Can you dance?' And without missing a beat, Emilia did the robot … She did it with commitment and she did it well…and even the president had no choice but to smile. She got the job 10 seconds after she left the room and the two of us ran to tell her before she left the building because letting her get on an 11-hour flight home without knowing seemed like cruel and unusual punishment."
And the rest was history. And now she has a cool Game of Thrones tattoo, too.
When Clarke came up to accept the award, she remarked that Benioff and Weiss "deserve their own bravery award for hiring someone whose biggest job up until then was catering parties dressed as a Snow White." You can watch her whole speech below:
(Via Variety)