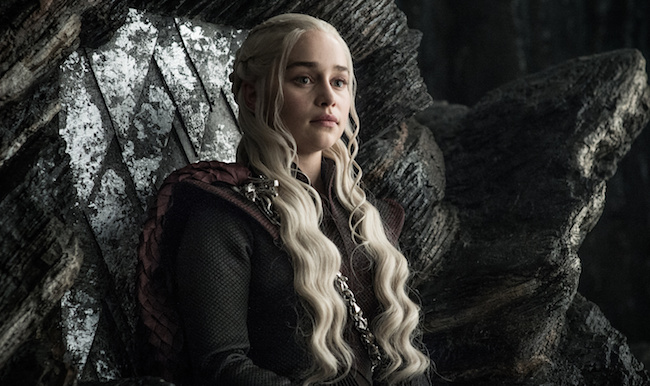 Game of Thrones has more Emmy nominations than any scripted series ever (129), and it also has more wins (38). The HBO fantasy series will try to (and likely) add to its record-breaking total during Monday's 70th Primetime Emmy Awards, which is the next-to-last time it will be eligible. But if George R.R. Martin had his way, Thrones would stick around for much longer, and not just because he wants to collect awards the way Jaqen H'ghar does faces.
"We could've gone 11, 12, 13 seasons," the A Song of Ice and Fire author told Variety during the Emmys pre-show red carpet. "[Showrunners] David Benioff and D.B. Weiss have been saying for like five seasons that seven seasons is all they would go. We got them to go to eight but not any more than that. There was a period like five years ago when they were saying seven seasons and I was saying 10 seasons and they won, they're the ones actually working on it."
When asked about the show's current stars, including Emmy nominees Nikolaj Coster-Waldau and Lena Headey, appearing on the upcoming Thrones spinoff(s?), Martin replied, "I know all of the actors, as great as they are, all the actors are anxious to get on and play other roles. They don't want to spend their entire lives playing one role and that's fine, that's great, we had such an amazing cast." Even if he wasn't talking about Kit Harington, he was talking about Kit Harington.
Game of Thrones returns in 2019.
(Via Variety)