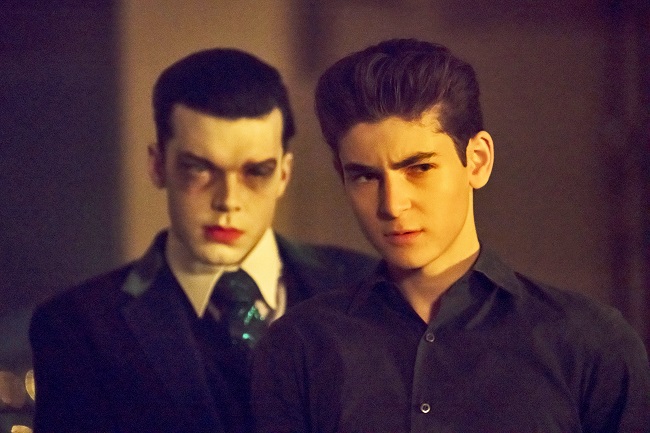 Gotham's fifth and final season is coming to FOX sometime in early 2019, and the cast and executive producer John Stephens have revealed quite a bit about the upcoming season via Instagram and during a panel at New York Comic Con this weekend. FOX also released a video summing up the past four seasons and teasing the next one. The new footage starts at 2:34.
Spoilers ahead.
Gotham executive producer John Stephens and stars David Mazouz, Donal Logue, Sean Pertwee, Robin Lord Taylor, Camren Bicondova, Cory Michael Smith, and Chris Chalk assembled at the New York Comic Con panel, where they were up front about several plotlines in the upcoming season, which we already knew was taking inspiration from No Man's Land and Batman: Zero Year. Here's a summary of the next season.
The first episode — fittingly titled "Year Zero" — picks up eight months after Ra's al Ghul and the uncannily Joker-like (but they can't call him that) Jeremiah Valeska destroyed all bridges into Gotham using the generators-turned-bombs that Bruce Wayne funded. In that eight months, Gordon and the rest of the GCPD have created a small "safe zone" for law-abiding citizens, while gangs have carved out the rest of Gotham for themselves, and Penguin has smartly stolen most of the ammo early on, meaning all gangs have to come to him to buy ammunition.
Other characters have picked their spots. Poison Ivy has taken over a public park. Riddler is confused after being resurrected by Hugo Strange, and Cory Micheal Smith said his character is experiencing blackouts, "kind of losing his mind," and has taken over the Gotham Library. Lee, who was also resurrected by Hugo Strange, won't appear until later in the season, when she'll "reenter Jim's life kind of like a meteroite," John Stephens revealed, adding, "She changes everything. She's going through one more transformation before the end of the season."
Speaking of transformations before the end of the season, it sounds like Bruce, Alfred, and Barbara will all experience transformations of their own. The series finale will reportedly include a brief time jump at the end, showing Batman ten years in the future. Stephens revealed Barbara — who's leading an all-female gang, the Sirens — will suffer "a devastating loss early in the season" and will go through an "uplifting but incredibly bloody" transformation. Sean Pertwee (Alfred Pennyworth) also joked about a devastating loss of his character's own, which relates to one of the new big bads of the season: Bane.
Yes, Bane is finally coming to Gotham. Stephens revealed they've been wanting to bring in Bane for years and do an origin story that directly involves Jim Gordon. We even know who's going to be playing him: Shane West. When it was announced West would be playing a character named "Eduardo Dorrance," he was quickly rumored to be playing Bane's father, Edmund Dorrance aka King Snake, but Stephens said King Snake will not be on the show. Stephens raved about West's performance, and Pertwee spoke about a fight his character will have with Bane, in which Alfred gets his back broken. So Bane still gets to break somebody's back, just not Batman this time.
Other villains confirmed to be coming to the next season are Magpie and (as shown in the season 4 finale) Orphan and Mother. Oh, and Jeremiah is getting a girlfriend, whom Stephens described in a very wink-wink, nudge-nudge fashion:
"[Jeremiah] has a somewhat deranged girlfriend who dresses in a multi-colored fashion. I wouldn't describe it as a healthy relationship, but there's a meeting of minds. She likes rollerskates."
Stephens didn't say if he's referring to Jeremiah's harlequin-suit wearing bodyguard, Ecco, played by Francesca Root-Dodson, or if a different woman will rollerskate into the picture. In an interview with Comic Book ahead of NYCC, the actor who plays both Valeska brothers (Cameron Monaghan) also mentioned the character's new girlfriend and spoke about how Jeremiah is dealing with his success.
"His plan succeeded. He destroyed Gotham. He marooned it. He created his maze and his image and all this stuff, which is rare for any villain to succeed. So I think that he's enjoying that he's king of the roost and he's sort of working within the shadows with a lot of respect and he's sort of the big boogeyman in the city right now. I think he's enjoying that and it's giving him a sense of ego and hubris. He has got a girlfriend now and he's more successful than he's ever been. I think that that level of success is also causing him to lose his sense of equilibrium a little bit. He's a bit more manic and unstable than what we've ever seen him before. I think that what's driving him right now and what his plan and what he's building is, he's always working or building something, is Bruce. Bruce is his special project. It's the one thing that's bothering him and nagging him because it's the one thing he didn't succeed at. That's what we see with him now is he's happyish but he's still unsatisfied because he needs to show Bruce how much he loves him, or his twisted version of love."
That doesn't sound like a healthy relationship, either.
And finally, Monaghan also shared a couple of pictures of Jeremiah's current look, in case you needed to know what not to wear to a prom:
(Via CBR, Coming Soon, Comic Book, and Cameron Monaghan)