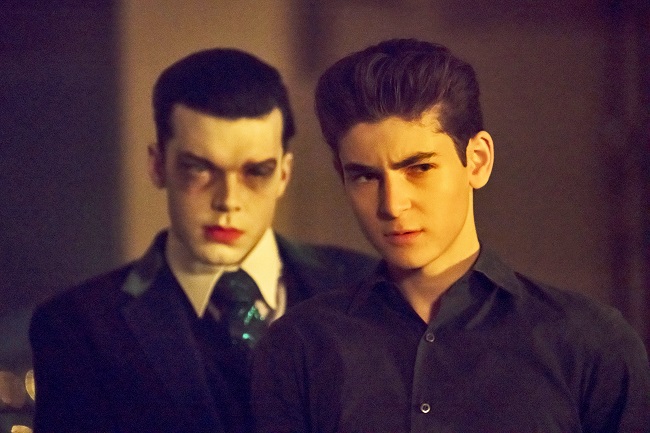 Gotham's fifth and final season is coming to FOX sometime in early 2019, and the cast and executive producer John Stephens have revealed quite a bit about the upcoming season via Instagram and during a panel at New York Comic Con this weekend. FOX also released a video summing up the past four seasons and teasing the next one. The new footage starts at 2:34.
Spoilers ahead.
Gotham executive producer John Stephens and stars David Mazouz, Donal Logue, Sean Pertwee, Robin Lord Taylor, Camren Bicondova, Cory Michael Smith, and Chris Chalk assembled at the New York Comic Con panel, where they were up front about several plotlines in the upcoming season, which we already knew was taking inspiration from No Man's Land and Batman: Zero Year. Here's a summary of the next season.
The first episode — fittingly titled "Year Zero" — picks up eight months after Ra's al Ghul and the uncannily Joker-like (but they can't call him that) Jeremiah Valeska destroyed all bridges into Gotham using the generators-turned-bombs that Bruce Wayne funded. In that eight months, Gordon and the rest of the GCPD have created a small "safe zone" for law-abiding citizens, while gangs have carved out the rest of Gotham for themselves, and Penguin has smartly stolen most of the ammo early on, meaning all gangs have to come to him to buy ammunition.
Other characters have picked their spots. Poison Ivy has taken over a public park. Riddler is confused after being resurrected by Hugo Strange, and Cory Micheal Smith said his character is experiencing blackouts, "kind of losing his mind," and has taken over the Gotham Library. Lee, who was also resurrected by Hugo Strange, won't appear until later in the season, when she'll "reenter Jim's life kind of like a meteroite," John Stephens revealed, adding, "She changes everything. She's going through one more transformation before the end of the season."
Speaking of transformations before the end of the season, it sounds like Bruce, Alfred, and Barbara will all experience transformations of their own. The series finale will reportedly include a brief time jump at the end, showing Batman ten years in the future. Stephens revealed Barbara — who's leading an all-female gang, the Sirens — will suffer "a devastating loss early in the season" and will go through an "uplifting but incredibly bloody" transformation. Sean Pertwee (Alfred Pennyworth) also joked about a devastating loss of his character's own, which relates to one of the new big bads of the season: Bane.