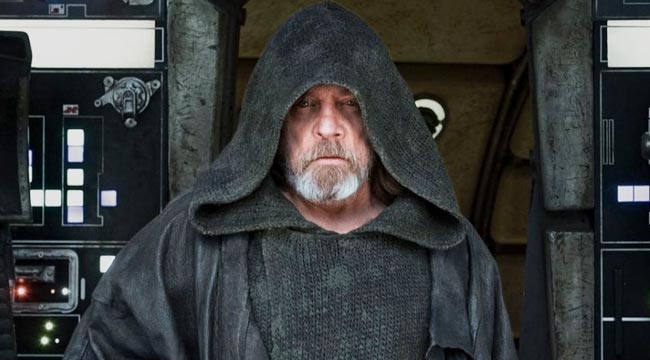 With Harrison Ford having retired Han Solo's cocky scowl and Carrie Fisher's unfortunate death, Mark Hamill is now the principal bridge between the original Star Wars trilogy and Episodes VII, VII, and IX. (Also, Anthony Daniels, but no one wants to hear from that goldenrod.) He's the one who got emotional seeing an old cast member, he's the one sharing behind-the-scene details, and he's the one who publicly questioned The Last Jedi director-writer Rian Johnson's direction for Luke Skywalker (comments which he later regretted and took back). Hamill should know: the actor is still in contact with Star Wars mastermind George Lucas, whose vision he believes was ignored by Disney.
"What I wish is that they had been more accepting of his guidance and advice," the Brigsby Bear star said in an interview last year. "Because he had an outline for [The Force Awakens, The Last Jedi, and Episode IX]. And it is vastly different to what they have done." What happens in the fabled outline? Well, in a new chat with IGN, Hamill revealed Lucas' intention for Luke in Episode IX.
"I happen to know that George didn't kill Luke until the end of [Episode IX], after he trained Leia," he said. "Which is another thread that was never played upon [in The Last Jedi]." If you contributed to the $1.3 billion the movie made at the box office, you know that Johnson killed Luke in Episode VIII, not IX, and Leia was never trained as a Jedi (although she shows off her powerful Force skills). As for whether Luke will return as a Force Ghost in the completion of the third trilogy, which is due out December 20, 2019, all Hamill would say is, "No one's really talked to me about it." Sounds like a classic Jedi mind trick to me.
(Via IGN)