Riddle me this, riddle me that, who's going to play the big, black bat? No one knows! (Although "The Batman star Jon Hamm" has a nice ring to it.)
We do, however, know who's adopting the Batwoman mantle.
Orange Is the New Black star Ruby Rose called joining the small-screen DC Universe a "game-changer," and she got emotional when she heard the casting announcement because "growing up, watching TV, I never saw someone on TV that I could identify with, let alone a superhero, you know?" On Tuesday, we finally got a peek of Rose-as-Batwoman, who will make her debut during a crossover event with The Flash, Arrow, Legends of Tomorrow, and Supergirl.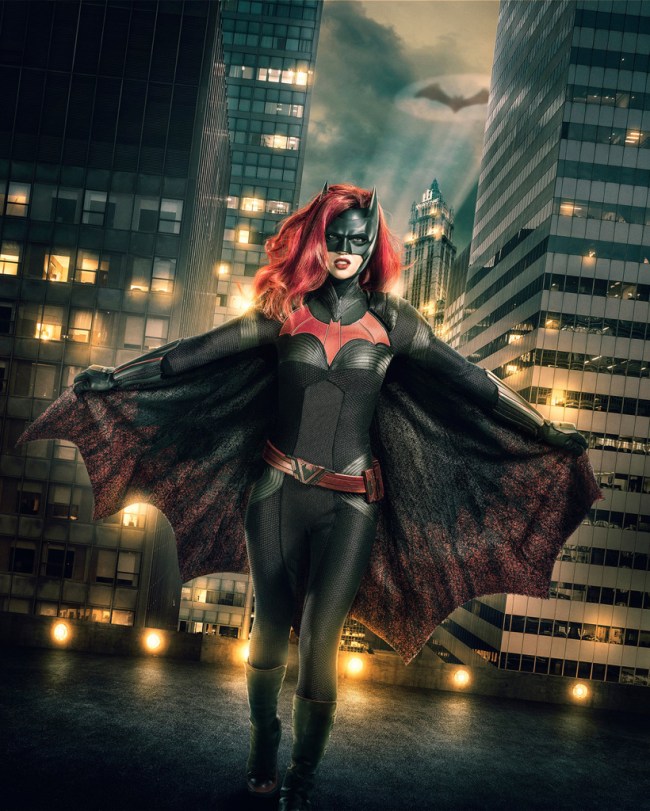 The "Arrow-Verse" now includes a lesbian actress playing a lesbian superhero (Rose) and a trans actress playing a trans superhero (Nicole Maines on Batgirl).
Should the crossover (which airs December 9) go well, the CW is hoping to make a Batwoman show. "Armed with a passion for social justice and a flair for speaking her mind, she soars onto the streets of Gotham as Batwoman, an out lesbian and highly trained street fighter primed to snuff out the failing city's criminal resurgence," reads the description for the potential series. "But don't call her a hero yet. In a city desperate for a savior, Kate must overcome her own demons before embracing the call to be Gotham's symbol of hope."
Earlier this year, Rose deleted her social media accounts, citing harassment over her casting.