The second season of Marvel and Hulu's Runaways series debuts Friday, December 21st. For the first season, co-creators Josh Schwartz and Stephanie Savage made sure to avoid the use of magic in its more explicit forms, for Marvel Television wasn't as keen on it as Marvel Studios, where Benedict Cumberbatch's Doctor Strange was leading the charge for the new Avengers. Per the season two trailer, however, it seems they won't be avoiding it as much for Nico Minoru (Lyrica Okano), the young team member who explicitly uses the mystic arts.
In the trailer's final sequence of shots, Nico tearfully exclaims "There's something wrong with me!" before she's seen facing off with her equally magical parents, Tina (Brittany Ishibashi) and Robert (James Yaegashi). Holding her mother's stolen staff, she pounds it into the ground before screaming something we don't hear.
Also, her eyes are surrounded by the same cracked and purple patchwork that the Dormammu-aligned villains in Doctor Strange sported.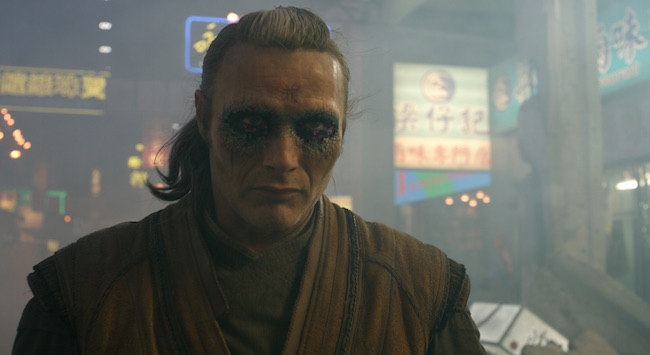 Entertainment Weekly, which debuted the new Runaways trailer on Thursday, didn't elaborate the blink-and-you'll-miss-it connection, but the show's known ties to Doctor Strange tell another story. As io9 reported last year, a Doctor Strange prequel comic explicitly included Nico's mother Tina accompanying the villain Kaecilius (Mads Mikkelsen) in a scene. She's also pictured with a familiar-looking "staff-like relic." The character was included in the film, but as Schwartz told IGN last year, "She was only named in the credits so it's nothing that really affects us."
So is Nico under the control of Dormammu, the evil, reality-devouring entity that Cumberbatch's Stephen Strange bargained with at the end of Doctor Strange? We have no idea, but it sure looks like it in the trailer.
(Via Entertainment Weekly)