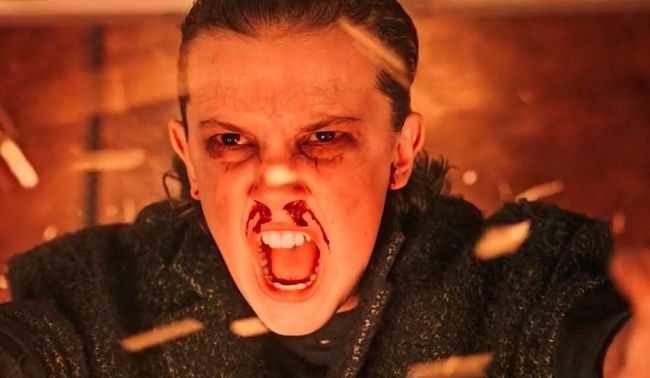 No matter how nicely we beg to know which show is more popular, Ozark or Flaked, Netflix continues to be notoriously stingy when it comes to ratings. So it's hard to tell which shows are bringing in bigger numbers than others, outside of common sense (I'm going out on a limb and saying more people watched 13 Reasons Why than Girlboss, which was one of the streaming service's first cancelations). But over the past year, Nielsen has been examining Netflix's viewership using SVOD Content Ratings, "a syndicated service that measures content from subscription video on demand services," according to AdWeek.
Their findings: people really like Stranger Things.
For the first time, Nielsen stacked Netflix's biggest series and movie premieres from over the past year against one another to compare their average audience viewership during the first day. Stranger Things dominated its competition, with three times as much premiere day viewing (almost 25 million, across all season two episodes) as its closest competitor, Marvel's Defenders. (Again, this data only represents TV viewing during the premiere day, not total ratings to date.) (Via)
SVOD only tracks "connected TV devices like Roku, Apple TV, video game consoles and smart TVs," so the overall numbers are even higher, but the point remains: in its first 24 hours of release, Stranger Things season two was multiple times more popular than anything else on Netflix during their debut days, including movies like Bright and The Cloverfield Paradox. The season two premiere alone was bigger than every episode of Fuller House, combined. (It's also interesting to see where Stranger Things fans tapped out before going to bed or, y'know, leaving the house: it was around episode five.)
You can check out the rest of the data here.
(Via AdWeek)