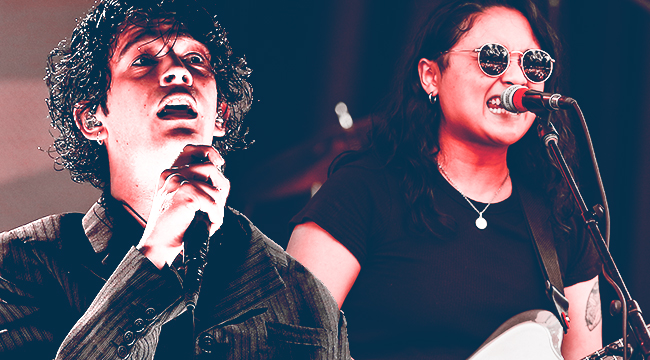 Indie music has grown to include so much. It's not just music that is released on independent labels, but speaks to an aesthetic that deviates from the norm and follows its own weirdo heart. It can come in the form of rock music, pop, or folk. In a sense, it says as much about the people that are drawn to it as it does about the people that make it.
Every week, Uproxx is rounding up the very best of the indie releases from the past seven days. This week we got an epic new punk track from The 1975 (yes, you read that right), the long-awaited sophomore effort from Jay Som, and an unforgettable proper debut from Ghost Orchard.
While we're at it, if you want more music recommendations curated by Steven Hyden delivered directly to your inbox every week, sign up for the Indie Mixtape newsletter.
Sheer Mag — A Distant Call
Sheer Mag is a very cool band. Somehow, they are able to craft tunes that are simultaneously nostalgic and inventive. Their latest LP, A Distant Call, channels Thin Lizzy and Def Leppard, but somehow manages to not feel gimmicky in any way. Across ten songs, this record boasts melodic guitar solos, infectious choruses, and thunderous drums. Honestly, what more do you need in 2019?
Ceremony — In The Spirit World Now
The latest in a series of hardcore bands replacing their overdrive pedals with reverb, Ceremony's new effort won't encourage as much moshing and hardcore dancing as it will the sad bopping from that South Park episode. It's always so interesting to watch a band's trajectory, and In The Spirit World Now feels like the culmination of a musical evolution, making it one of the most interesting projects to come out of the punk-adjacent scene since Title Fight's Hyperview.
Jay Som — Anak Ko
We've talked a lot about the new Jay Som record in this column and, lucky for us, the full project is finally available for our listening pleasure. Truly — Anak Ko, Jay Som's "effortlessly inventive new record" according to Zach Schonfeld for Uproxx, is a privilege to listen to. Across its 35-minute runtime, Meline Duterte invites listeners to travel with her through genre distinctions to something that is truly a singular vision.
Ghost Orchard — Station
The proper debut album from Ghost Orchard might seem like it's a little all over the place at first, but then you'll realize that's why it's so cool. "The music takes inspiration from elements of hip-hop, bedroom pop, and more — it's actually quite hard to pinpoint exactly where on the sonic spectrum it lies," I wrote recently for Uproxx. Sam Hall bends the definition of "bedroom pop" to his will, resulting in a project that feels timeless in its composition, with something new to find on every listen.
Queen of Jeans — If You're Not Afraid, I'm Not Afraid
Queen of Jeans caught my ear within the first ten seconds of the opening track on their debut album, Dig Yourself. Now, the Philadelphia has returned with the equally-impressive If You're Not Afraid, I'm Not Afraid, "eleven empowering tracks that don't stray away from vulnerability, putting vocalist Miriam Devora's story on full display," as I wrote for Uproxx. If you dig absolutely gorgeous and ethereal vocal melodies, this is the record for you.
Rose Dorn — Days You Were Leaving
On their debut full length, Rose Dorn embody the bedroom pop that we have come to know and love through the lens of artists like Frankie Cosmos and (Sandy) Alex G. But they also put a spin on the genre, giving it a bit more of an upbeat edge that keeps the listener constantly engaged. The record also opens with a track that nears eight minutes in length, which is… very daring and impressive for a debut record.
The 1975 — "People"
We've argued here at Uproxx for a long time whether The 1975 is a rock band. The band put that question to rest with their latest single, which is a straight-up punk song which sounds like a better FIDLAR song than anything FIDLAR has released in the last few years. "There are aggressive drums, in-your-face guitar, and an even more impassioned vocal performance from [frontman Matty] Healy, all of which come together to once and for all conclude that The 1975 rocks," Derrick Rossignol writes for Uproxx.
DIIV — "Taker"
As soon as the vocals come in on DIIV's new song "Taker," you can tell that they worked with someone involved with My Bloody Valentine. A little more research reveals that the band's new record Deceiver was produced by Sonny Diperri, who actually has worked with My Bloody Valentine. Bazinga. "Taker" has a heavier vibe than we're used to hearing from DIIV, leaning more toward the realm of shoegaze that builds layers of instruments into a wall of sound than the intermingling, twinkly guitars that the band has employed in the past.
Great Grandpa — "Mono No Aware"
Great Grandpa have a knack for writing great songs, and we've been supporting them here at Uproxx since around the release of their debut. But the band's new track, "Mono No Aware," shows a side of the band that I don't think anyone was expecting. While the debut, Plastic Cough, relied on the tropes that existed under the umbrella of "grunge," the band's new sound forces its way through the ceiling that comes tied to that genre classification, with very impressive results.
Long Beard — "Getting By"
This new Long Beard record is shaping up very beautifully. Due out next month, Means To Me is previewed by another single, "a breezy, upbeat, and relaxing indie-rock tune," according to Derrick Rossignol for Uproxx. All told, "Getting By" is a deeply impressive dream-pop track that is yet another indication that Long Beard is an artist to watch in late 2019/early 2020.
Some artists covered here are Warner Music artists. Uproxx is an independent subsidiary of Warner Music Group.