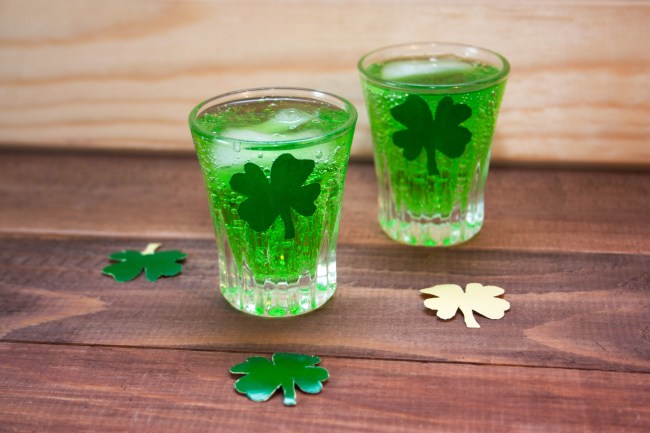 Saint Patrick's Day is here again! For some people, it's the celebration of Ireland's patron saint. For many others, it's the celebration of Irish culture, customs, and heritage. And certainly there's more than a few of us that use the holiday as an excuse to bring friends and glasses together; good conversation and the clinking of pints.
If you're looking to cheers over more than green beers, we've got the cocktail roundup for you. Whether you're looking for a traditional cup or a surprising new riff, you'll find the beverage for you below! Sláinte!
We love a cocktail that gets you playing with house-made infusions. There's something extra special about offering your guests a drink that you've had a hand in bringing to the next level. Here Maker's Mark Bourbon gets an extra kick from serrano pepper, which plays nicely with cool lime and sweet agave.
Ingredients:
2 parts serrano-infused Maker's Mark Bourbon
1 part freshly squeezed lime juice
One-half part agave syrup
Pinch salt
1 cup ice
4 sprigs tarragon
Directions:
Place all ingredients in a blender and blend on high until the ice is pureed. Serve immediately.
Ingredients for serrano-infused Maker's Mark Bourbon:
2 cups Maker's Mark Bourbon
1 part freshly squeezed lime juice
1 piece serrano pepper, cut in half and deseeded
Directions:
Combine the pepper and Maker's Mark Bourbon in an airtight container and allow it to macerate for at least 2 days. Store in the fridge and shake container gently twice a day.

Light, floral and fruity, this is the cocktail for those of you that prefer the refreshing zing of citrus and mint to the rich darkness of Guinness. Ménage à Trois Vodka provides the clean, cool base for lemonade, melon liqueur, and Crème Yvette liqueur to work their magic. The result is a cocktail that's as pretty to look at as it's delicious to drink.
Ingredients:
1 part Ménage à Trois Vodka
1 part lemonade
3/4 part Crème Yvette liqueur
3/4 part melon liqueur
2-3 mint leaves for garnish
Directions:
Shake vodka and lemonade together, set aside. Build cocktail in Collins glass over ice: first pour Crème Yvette liqueur, then vodka lemonade blend, topped off with melon liqueur. Garnish with mint.
Move over, whiskey, rum wants its time in the sun. Or drizzle. March weather is unpredictable, but the quality of the cocktail in your hand doesn't have to be. This tropical swizzle, featuring Sugar Island Coconut Rum, is the islands' nod to the Irish aisles.
Ingredients:
1.5 parts Sugar Island Coconut Rum
3/4 part fresh kiwi puree
1/4 part fresh lemon juice
3/4 part pineapple juice
Directions:
In a glass shaker, add all ingredients, add ice and shake and strain over crushed ice. Garnish with Kiwi wheel and a pineapple leaf.
A refreshing riff on a classic rickey, this cocktail subs in a fruity cognac — Bache-Gabrielsen VSOP Natur and Eleganse — for the traditional whiskey, and sweetens things up with a little simple syrup. Muddled cucumber and mint will have you feeling virtuous as a saint.
Ingredients:
2 parts Bache-Gabrielsen VSOP Natur and Eleganse
3/4 part simple syrup
3/4 part fresh lime juice
1 part soda water
Cucumber
Mint
Directions:
Muddle mint and cucumber. Shake, strain into tall glass, top with soda water. Garnish with mint sprig and cucumber slice.

Tequila-lovers, unite! Your new favorite play on the classic Irish coffee is here. Hornitos Black Barrel "the most highly awarded tequila of 2014," is whiskey-like in its rich, smokiness and works a treat with coffee liqueur and whipped cream.
Ingredients:
1.5 parts Hornitos Black Barrel Tequila
1.5 parts coffee liqueur
1/4 part vanilla syrup
1 part heavy cream
Directions:
Combine equal parts vanilla extract, water and sugar and bring to a boil to create vanilla syrup. Combine all ingredients in a shaker and shake vigorously. Strain into a glass and serve.
The bite of tequila combined with the refreshing, citrus-green bite of kiwi is a winning combination in your rocks glass. Rich in green pigment and rich in flavor, it's another excellent use of the barrel-aged spirit.
Ingredients:
1.5 parts Hornitos Black Barrel Tequila
3/4 part fresh lemon juice
1/2 part simple syrup
Kiwi
Dill
Black sea salt
Crushed black pepper
Directions:
Preparation: Lightly muddle 1/2 kiwi and 2 sprigs dill in a shaker. Combine remainder of ingredients in a shaker with ice and shake vigorously. Double strain into a rocks glass over fresh ice. Garnish with kiwi slices and a black sea salt and crushed black pepper rim.
If you're a fan of Datz, in Tampa, Florida, you're no doubt aware of their reputation for serving up whimsical, creative cocktails, the type that satisfy both the urge for an adult beverage and the desire to indulge one's inner-child at the same time. Just in time for St. Patrick's Day, they've knocked it out of the park and over the rainbow with the Irish Breakfast. We like to imagine that this is what that cereal-loving leprechaun takes a sip of in the morning after a long night of evading people chasing after his lucky charms.
Ingredients:
1 oz Jameson
1 oz Baileys
1/2 oz Galliano Ristretto
2 oz house made cold brew coffee
3 dashes Fee Brothers Aztec chocolate bitters
Lucky Charms
Guinness mint whipped cream
Directions:
Combine Jameson, Baileys, Galliano and cold brew in a mixing tin. Add ice and shake for 10-15 seconds. Strain into an ice filled 18oz brandy snifter. Top with Guinness mint whipped cream and Lucky Charms.
Ingredients for Guinness syrup:
16 oz Guinness
1 cup brown sugar
Directions:
Add 16 oz of Guinness to a saucepan. Bring to a boil and then simmer to reduce. Add 1 cup brown sugar and stir to dissolve.
Ingredients for mint whipped cream:
8 oz heavy cream
2 oz Guinness syrup
10-15 dashes Fee Brothers mint bitters
2-3 dashes vanilla extract
Directions:
Combine ingredients in CO2 canister and charge. Allow to chill for 2 hours before serving.

From Chicago's Travelle Kitchen + Bar comes this tequila cocktail utilizing an aloe spirit. Gentle, vegetal, sweet and bitter, this Californian liqueur is the perfect foil for tequila.
Ingredients:
1.5 oz El Tesoro Platinum
.75 oz. cucumber matcha juice
.5 oz. Chareau Aloe Vera
.75 oz. simple syrup
Pesticide-free pansies for garnish
Directions:
Combine ingredients in a shaker tin with ice. Shake and strain into a rocks glass over fresh crushed ice. Garnish with pesticide-free pansies.
Cereal milk is a winning trend in desserts, showing up in everything from frozen yogurt, to ice cream, to cake and cupcake icing. Westbound's Niklas Morris uses a childhood favorite treat in this distinctly adult cocktail where morning meets nightcap. In LA over the holiday? Stop by the bar to try Irish-themed menu items, entertainment, and a frozen Irish coffee!
Ingredients:
2 oz Teeling Irish Whiskey
4 oz Lucky Charms Milk (made by steeping Lucky Charms cereal in milk
Mint
Amer Curaçao or Bitter Curaçao
Directions:
In a mixing tin, muddle mint and whiskey. Add ice and cereal milk. Shake, then strain into collins glass filled with fresh ice. Float with curaçao. Garnish with more mint.
Westbound's Happy Hooligan is the ultimate in St. Patrick's Day cocktails. The striking contrasts in color and texture are a clear celebration of the holiday. Have a few of these and you'll be a happy hooligan, indeed.
Ingredients:
2 oz Jameson Irish Whiskey
1 oz fresh lemon juice
.5 oz ginger syrup
.5 oz fernet
1 egg white
Directions:
In a mixing tin, dry shake all ingredients to froth the egg white. Add ice, shake again. Serve up in a coupe.
Every cocktail enthusiast should have a recipe for Irish coffee on hand. A classic cocktail, it's deliciously warming and makes both an excellent weekend-morning drink or nightcap. Michelin-starred GreenRiver offers their recipe for a perfect Irish coffee every time. With fresh-whipped cream, hand-grated nutmeg, and Chicago-based Sparrow coffee, it's an indulgent holiday treat.
Ingredients:
0.75 oz Irish Coffee Whiskey Blend
Irish Coffee Base
Hand-whipped cream
Nutmeg
Directions:
In a pre-heated sherry glass, pour the .75 oz of Irish Coffee Whiskey Blend. Fill with Irish Coffee Base. Top with a delicate layer of hand-whipped cream, and garnish with freshly grated nutmeg.
Ingredients for Irish Coffee Whiskey Blend:
3/4 Jameson Caskmates
1/4 Cynar
Ingredients for Irish Coffee Base:
10:1 GreenRiver Coffee Brewed to Demerara syrup
If you're loving playing with Lucky Charms-infusions, try out this cocktail utilizing cereal-infused vodka. Sweet, creamy, and spicy, it's a playful way to celebrate St. Patrick's Day.
Ingredients:
1.5 oz. Lucky Charms-infused vodka
1 oz. Heavy cream
.25 oz. Demerara syrup
25 oz. Cinnamon-clove syrup
Directions:
Shake all ingredients over ice and strain into a chilled coupe glass. Float 2-3 Lucky Charms marshmallows on the top of the drink to garnish.
And because we always like booze with desserts and desserts with booze…
Like your food booze-infused? Check out Sherry B Dessert Studio's limited-edition St. Patrick's treats. Half-pound ice cream cake sandwiches come in three flavors:
Kiss Me I'm Irish features Jameson whiskey-laced ice cream and Kahlúa sandwiched between chocolate crumb.
Grasshopper's Crème de Menthe ice cream is flecked with dark chocolate and sandwiched between layers of chocolate cake.
Lucky Stars, with confetti and sprinkled vanilla cake is your booze-less option, filled with marshmallow ice cream.