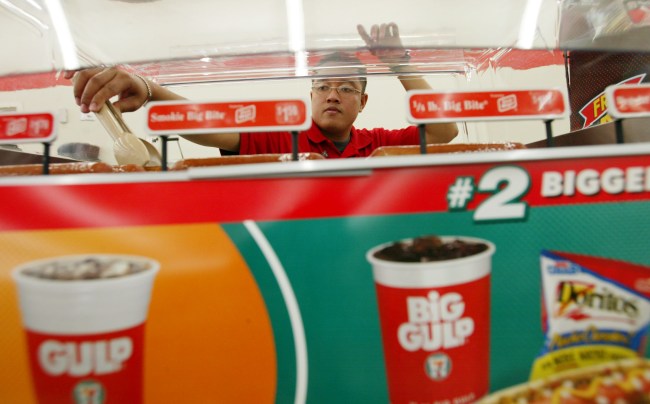 The Slurpee has been making cars super-sticky for 50 years. To celebrate, 7-Eleven stores around the country allowed customers to bring in their own cups on Friday and Saturday and fill them up with as much carbonated slush as they'd like for $1.50. The only rules: the cup must fit within a 10-inch hole, and be "food-safe clean" and watertight. Everything else is fair game, including making cups out of bongs, Halloween pumpkin heads, milk jugs, buckets, blenders, pots, pans, and Jack Daniel's bottles. Dia-what-es?
7-Eleven also introduced a new flavor, in a press release written by Poochie:
7-Eleven is taking Slurpee season to the extreme with new Airheads Xtremes Rainbow Berry Slurpee, a sweetly sour flavor combination of your favorite frozen beverage. This new flavor is available now.
Cupholders didn't know what hit 'em. If customers didn't happen to have a hollow watermelon around, they could buy a "collectible 64-ounce mason jar-style cups sporting the 'Slurpee 50' celebration logo." That's the real "super bowl." Anyway, it's nice of 7-Eleven to finally answer the question that's baffled our greatest minds for years: How brutal would your brain freeze be after drinking a traffic cone of Slurpee? The answer: Yes.
https://www.instagram.com/p/BDJ4WKTB9Cf/
https://www.instagram.com/p/BDMahF6Gp9v/
https://www.instagram.com/p/BDKC9yJkaKB/
https://www.instagram.com/p/BDJ9sSkORJF/
https://www.instagram.com/p/BDKE4DgiIWl/